Audio Garage in Fargo has been a leader in the driver safety category for over a decade. One of the categories that has grown in popularity is blind spot sensor systems.  We feel the uptick in interest has a lot to do with newer vehicles having more blind spot areas than in the past. The good news is one of our systems can be added to almost any vehicle, making you and your family safer on today's busy roads. Our product mix is divided between two completely different technologies: camera-based systems and sensor-based solutions.
Blind Spot Sensor Systems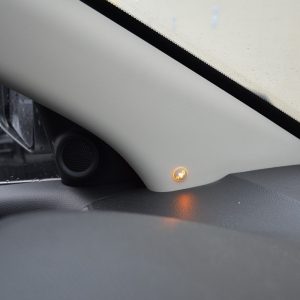 The first type of product we offer uses a radar-based sensor that gets hidden inside the corners of your rear bumper. When you are driving up the road and someone comes into your blind spot on either side, you get a notification. Here is a detailed description of how it works when you are driving: Let's say someone comes into your left side blind spot behind you. At that point, the indicator light we place on the left side of the driver's view will illuminate, alerting you of a something in your blind spot. Should you decide to activate your left turn signal, a secondary audible alert goes off as an additional warning.  This way you don't accidentally move into the left lane. The same thing happens on the right side of your car, truck, or SUV. If someone comes into your right blind spot, first the indicator light on the right side illuminates. If you decide to activate your right turn signal, the audible alert now goes off as the second line of defense. Two things we really like about this style system are weather and lighting have no effect on its performance.
Blind Spot Camera Systems
The second type of blind spot systems offered at Audio Garage is camera based. We install two specialized cameras underneath each side view mirror and aim them directly at your blind spot. Whenever the vehicle is running, activating either turn signal brings the appropriate camera to life, displaying the image in one of four different monitor options. Now you get a great view of anything in your blind spot, helping you know if it is safe to move into another lane. They are especially helpful if you own a motorhome. Here are the four display options:
Integrate with Factory Screen in the Dash
If your vehicle has a color screen in the dash, chances are we can integrate the camera output to that monitor and give you a factory-looking solution.
Replacement Rear View Mirror
The second option replaces your existing rear view mirror with a model that has an embedded LCD monitor in it. Under normal use, it looks and operates just like your original one. But, should you activate either blinker, the monitor comes to life! It will display what is in your blind spot.
Upgraded Stereo With Color Screen
Many clients opt for a replacement in-dash touchscreen radio that has a full-color monitor. You not only get a monitor for your blind spot cameras, but you can add these additional technologies: GPS Navigation, CarPlay, Android Auto, Bluetooth, rearview camera, USB ports and satellite radio.
Standalone Monitor
The last option is a standalone monitor designed solely to display your blind spot camera images. This option is great for commercial vehicles. We offer larger screen sizes and rugged displays. We have solutions in multiple screen sizes to fit almost any vehicle on the road.
Highly Skilled Technicians on Staff
Once you have decided to get a blind spot system, you need a shop that does great work. Fortunately, our installation quality has developed a terrific reputation in our area.
Schedule a Consultation with Us
The next step in getting a blind spot system for your vehicle is scheduling a consultation with us. One of our team will look over your vehicle, get to know you better, and design the best solution for your needs.
You can also click HERE to contact us about any of our products and services.