Audio Garage in Fargo carries a wide assortment of WeatherTech custom-fit floor mats and accessories for your car or truck. Whether you're trying to keep the interior of your vehicle looking like new, want to protect the rocker panels on your truck from stone chips or need a way to organize the cargo area, WeatherTech has a solution. Let's look at a few of the products available from this amazing US-based brand.
WeatherTech FloorLiner Mats and Cargo/Trunk Liners
FloorLiners are durable, vehicle-specific floor mats that are designed to keep slush, salt, sand, dirt and mud out of your carpet to keep the interior of your vehicle looking like new. The mats are contoured to fit the floor and sides of the footwells in the front and back seats of your car. They are also available for third-row seats in SUVs.
Cargo and Trunk Liners are made from the same durable, flexible rubber as the FloorLiners and are contoured to fit the cargo area in your vehicle. Spills are contained, so accidents with groceries, cleaning chemicals or cargo won't damage your vehicle.
Side Window Deflectors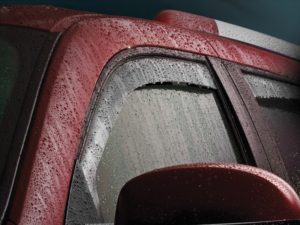 WeatherTech's in-channel side window deflectors let you roll down your windows for fresh air while keeping rain or wind under control. The deflectors are made from a DOT-approved glazing material and fit into the window channel for a clean, tidy and aerodynamic installation.
No-Drill Truck MudFlaps
Using the same high-precision laser-scanning equipment used to design their window deflectors and floormats, WeatherTech MudFlaps protect the fenders and rocker panels of your truck or SUV from stone chips and damage without the need for drilling.
Seat and Door Protectors
If you want to protect the upholstery on your vehicle, a set of WeatherTech Seat Protectors is a great investment. These water-repellent covers keep spills away from your seats while preventing scratches, scuffs and damage that could be costly to repair. The Door Protectors are a great way to prevent Fido's paws from scratching plastic, vinyl or leather door panels.
Control Packages with CargoTech
Whether you're hauling the week's groceries home or need to keep a cooler in place in the cargo area of your vehicle, WeatherTech's CargoTech cargo containment system is a handy solution. The system includes four units with super-grippy rubber feet that help to keep boxes and bags in place as you drive.
Protect Your Vehicle with WeatherTech
In the same way that our paint protection film services keep the exterior of your car or truck looking like new, WeatherTech products help protect the interior. If you have a new car or truck, drop by Audio Garage in Fargo and ask us what's available from WeatherTech to help maintain the value of your vehicle. You can reach us by phone or by e-mail for information about any of the products we carry.