Audio Garage in Fargo is a specialist in motorcycle audio. Since our beginnings in 2004, we have focused a lot of resources and energy on designing and building great-sounding stereo systems in boats, motorcycles and powersports vehicles.
If you own a Harley-Davidson, the chances are good that our team is intimately familiar with your bike. We also work on every other brand of motorcycle on the market and custom-build a system for your needs.
We are Motorcycle Audio Experts
As motorcycle audio gets more popular, many shops are starting to offer it. Unfortunately, trusting your stereo system to someone who understands engine builds, custom painting or general service work means you aren't dealing with someone who specializes in audio. Our company understands what it takes to give you a great-sounding, reliable stereo system that will improve the cosmetics of your bike, not detract from it.
Better Equipment Means Better Sound
Another area where Audio Garage shines is the quality of our equipment. Our staff spend countless hours on researching and testing products to offer you the best-sounding equipment available. We take all the expertise learned in our marine audio division and applied it to motorcycles. The end result is a finished product that will sound great and stand the test of time.
Upgrading Speakers is a Necessity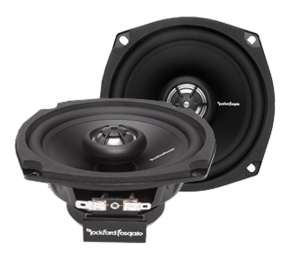 First and foremost, factory-installed motorcycle audio systems come with inferior speakers. If you want a system that sounds good, speakers are an obvious improvement. If your bike only came with one set of speakers, we can often add additional ones in your lowers or rear bags.
Amplifiers Provide the Power to Listen While Riding
Once we install better speakers, you want to hear them at speed, so you need power, and power comes from an amplifier. We
have several models that are extremely compact in size yet pack a powerful punch. Our amps are also designed to work with the limited charging capacity of your bike's electrical systems.
Several Different Source Unit Options
From our research, it looks like the way most people want to listen to their music is by wirelessly streaming it over Bluetooth. Our solutions range from Bluetooth modules that give you full control from your phone to replacement stereo systems with SiriusXM satellite radio and USB ports. Of course, we will keep your handlebar audio controls working with your new fairing-mounted stereo. Whatever your needs are, the chances are good that Audio Garage has your solution.
Custom Lighting Options
Would you like to upgrade your headlights or road lights to better-performing LED models? We have you covered. How about adding auxiliary lighting to improve your vision at night? No problem. Maybe your lighting tastes center around LED accent lighting that makes your bike stand out from the crowd? Yep, we do that as well.
Paint Protection Film is a Great Option
As you already know, the paint on your motorcycle is beautiful. Did you know paint protection film is a great way to keep that finish looking new for a longer period of time? We are experts in this field, having protected cars worth more than most people's homes. Our team will work with you to find the best solution for preserving that beautiful finish.
Take the Next Step
The final step in getting a motorcycle audio system that sounds great at speed is to ride over to Audio Garage at your convenience for an audio consultation. Let us put our years of experience to work for you designing and building the audio system you have always wanted. You can also click HERE for more information about any of our products and services.