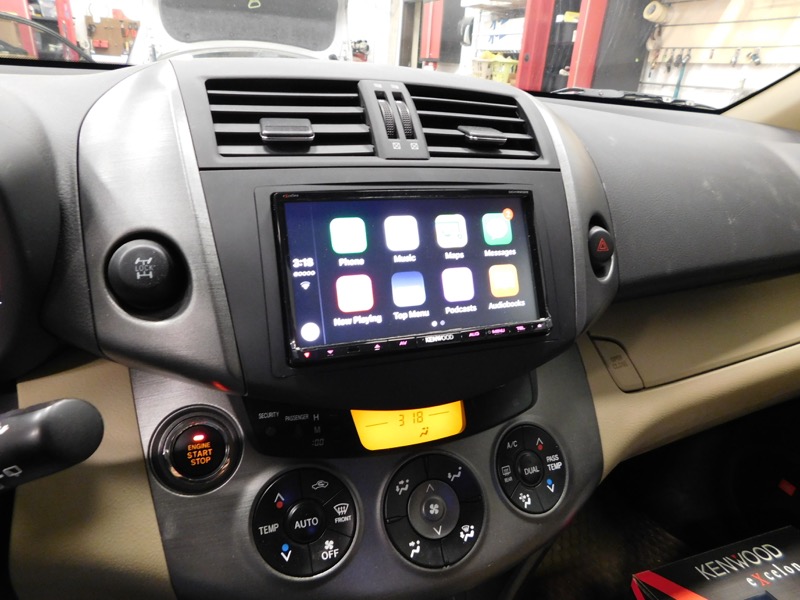 Mobile audio is our passion. It is why we started the Audio Garage in 2004, and it is still the driving force of our company to this day. It is not a sideline of our business. When you come to us for an audio upgrade, you will not be waited on by a person using the job as a stepping stone to something bigger and better. Rather, you will find employees who are passionate about music and have a love of cars. The ability to marry the two together is a match made in heaven.
Do you have a vehicle with some broken equipment that needs to be repaired or replaced? We can take care of you.
Maybe you are the kind of person who loves music and can't imagine spending a day without it? If this describes you, the Audio Garage is the place for you.
Technology in vehicles is ever-changing, and we are well-equipped to modernize and upgrade the stereo system in your dash. Whether you are looking to replace your broken CD player or upgrade to the latest touchscreen navigation system, we have you covered. Do you like the look and feel of the large color screens in a modern vehicle? Did you know we have been offering them to clients since 2004? Our team can integrate your new stereo system with the dash of your vehicle, giving it a clean, professional look while keeping your factory-installed features like steering wheel-mounted audio controls.
The Audio Garage can also upgrade the sound quality of your factory-installed system. Maybe you recently got a new vehicle, and you like the operation and the layout, but the sound quality leaves a lot to be desired. No problem. We are experts at taking inferior-sounding factory stereo systems and making them sound like concerts on wheels.
Is your vehicle lacking some features that are important to you? Maybe Bluetooth for hands-free calling or music streaming, or maybe SiriusXM Radio? We can integrate these features with your vehicle, giving you a seamless, easy-to-use interface.
Is your smartphone becoming a bigger and bigger part of your life? For many of us, it is the primary means of communication, where we get our information, and how we store and play our music. The Audio Garage has solutions to add Apple's CarPlay and Google's Android Auto to most modern vehicles. These great new technologies allow you to safely harness the power of your smartphone while driving.
Adding bass to a car audio system is one of the biggest benefits you can gain. The acoustics of an automobile lend themselves to great-sounding bass reproduction. Do you remember your favorite concert, and how the bass felt in your chest? It made the music seem to come alive. With the advancement in car subwoofer technology, the Audio Garage can get you accurate, deep bass that takes up very little interior space in your vehicle.
Our team of custom craftsmen can design and build a custom subwoofer enclosure for you that will tuck into a side panel or cubbyhole with a factory-looking appearance while giving you that sound you enjoyed so much at the concert. Most factory stereo systems can't reproduce a kick drum or the top string of a bass guitar, so you are simply missing out on some of the best parts of the music. For many people, it's not about waking up the neighbors, but rather hearing all of the music the way the artist intended.
Speakers have always been popular upgrades for our clients. Many vehicles will see their sound quality seem to wake up just by upgrading to a nice set of front speakers. From basic replacement ones to top-of-the-line models that will leave you breathless, we have you covered. Should you decide on a set of speakers that need fabrication work, our highly skilled technicians can make them look like they came from the factory in your vehicle.
Digital sound processors have become a mainstay in modern car audio systems. Our team is made up of specialists who know how to extract every last ounce of sound quality from your system, making your driver's seat the best seat in the house. Once you experience your music being properly presented in front of you across the top of the dash, you will never want to go back to a weak, anemic-sounding factory system.
At Fargo's the Audio Garage, Mobile Audio is Our Passion
We invite you to stop into the Audio Garage with your vehicle. Our team of experts will work one on one with you to design and build the solution that best fits your needs.