If you own a classic car like a Corvette, Mustang or Camaro and have been looking for someone trustworthy to install an upgraded car audio system, the Audio Garage is your solution. Since our founding in 2004, we have specialized in offering our clients the finest installation quality in the area.
If you own a classic car, you already know that it takes a special kind of person to work on your vehicle. Many of the parts and pieces that make up your car get brittle and rusty as they age, and you need a shop that knows how to work properly disassemble and reassemble your car. Our company understands how valuable your car is to you, and we promise to keep as much of the originality intact as you need while giving you the modern conveniences you have come to enjoy.
One of the things that sets us apart is our ability to offer you a radio that has a factory look in your dash and needs no cutting while providing many modern conveniences.
Here is how the process normally works at the Audio Garage.
You contact us however it is convenient for you (phone, e-mail, website, etc.), and we set up an audio consultation appointment where you will come by our shop with your vehicle. One of our team members will look over the vehicle with you and listen as you explain your goals for the upgrades. We will ask you questions like:
How often do you drive the vehicle?
Do you want it to look 100% original?
Are you OK with holes being drilled into the vehicle?
What are your favorite genres of music?
Do you own a nice home stereo system?
Do you like attending live concerts?
Once we have gathered the answers to all of these questions, we will take you to our showroom and listen to our equipment together. Often, we will show you some of our previous work, since we typically have at least two vehicles on hand for demo purposes.
Once all of this is done, we will work up a proposal that we feel best suits your needs. Assuming you like our proposal, we will schedule an installation appointment for you.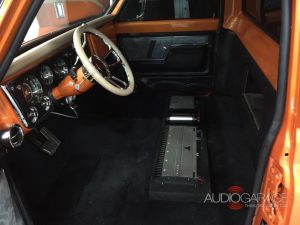 When a vehicle comes into our install bay, we often take pictures of it before it is disassembled. We visually inspect every part to make sure there is nothing faulty that will need our attention. We pay particular attention to all wiring and connections, since they are often substandard based on the age of the vehicle. We label our parts bins with hardware, so we know for sure that everything goes back together the same way it came apart.
It is our goal, when doing an installation on a classic car, to give you an installation that will provide years of reliable service while increasing your enjoyment of the vehicle. We know what it is like to get out of your modern vehicle with all of today's connectivity and get into a classic car with no way to connect your smartphone and enjoy your music. Rest assured; we have solutions for all of these obstacles.
Finally, we know how loud it can be inside a classic car when driving along the road, so we offer sound-damping control, which can dramatically lower the noise level inside your vehicle.
Classic Car Installation at Fargo's Audio Garage
When you are ready to upgrade the audio system in your classic vehicle, we invite you to contact us HERE at the Audio Garage in Fargo, North Dakota. Let's get together for a consultation and see how we can help you get the audio system you have always wanted in that classic vehicle you've always loved to drive.