If you're shopping for running boards, side steps or nerf bars for your truck, SUV or van, drop by Audio Garage in Fargo. Our team of truck accessory experts will work with you to determine the best style of step for your vehicle to ensure that it looks great and is easy to get in and out of. Once you've chosen the perfect solution, our team of technicians can complete the installation for you quickly and efficiently.
Running Board Options from Audio Garage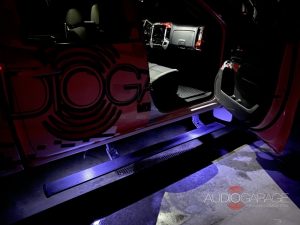 Depending on how you use your vehicle, we have several varieties of running boards available from companies like Amp Research, Aries Automotive, Dee Zee, Fab Fours, Go Industries and ICI.
One of our most popular options are the PowerSteps from Amp Research. These extruded aluminum steps feature heavy-duty hinges and a high-power motor that is controlled by opening and closing the doors of your vehicle. When you're parked or driving around town, the steps fit up tight to the rocker panels to maintain ground clearance and vehicle aerodynamics. As soon as you open a door, the step extends down to make it easy to get in and out. If you have a tall vehicle like a Ford Raptor or a Sierra Heavy Duty, Amp Research offers a taller version called the PowerStep XL that provides an additional 3 inches of extension.
Traditional steel and aluminum running boards are available for almost every truck, van and SUV on the market. You can choose from perforated steel steps for commercial applications or solutions with injection-molded plastic trim to make it easier for your kids to get in and out of a tall SUV.
Tubular Steps and Nerf Bars
If you're looking for an off-road look, you may want to explore our nerf bar and tubular step options. These steps look like rock sliders but include step platforms for the front and back doors. You can choose round or oval tubes with chrome, satin or texture black finishes. Nerf steps are also available for the sides of pickup truck beds to make accessing the contents easy from the side of the vehicle.
Expert Installation Services
No matter which steps you choose, you can trust our technicians to install them perfectly. The fasteners and mounting hardware will be tightened to specification using a torque wrench. Wiring for motorized and illuminated steps will be executed to our exacting standards for reliability and performance. Nobody in the Fargo area is better at automotive accessory installation than Audio Garage.
If you're looking for accessories for your vehicle, drop by Audio Garage at 5257 51st Ave. South and speak with one of our product specialists. You can also reach us by phone at 701-353-7266 or by e-mail using our contact form.