No single bolt-on upgrade changes the look and performance of a vehicle more than a new set of wheels and tires from Audio Garage in Fargo. Whether you're after improved off-road traction, confident handling and short stopping distances around town or a high-performance solution for track days, we can deliver. If we're upgrading your vehicle with a new audio system or adding window tint for improved comfort, ask us about what's available for your car, truck or SUV.
Thousands of Wheel Options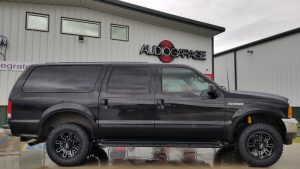 We carry many of the top wheel and tire solutions in the industry. You can choose from well-known brands like American Racing, Enkei, Bremmer, KMC, Method, Helo, Granite Alloy and many more. We have chromed, painted and machine-finished options and can provide roll-formed and forged wheels for high-performance applications. If you purchase a complete set, we'll have the tires mounted and balanced when you arrive. We can include new Tire Pressure Monitoring System (TPMS) sensors, centering rings and lug nuts to ensure that the package delivers a smooth ride without vibration. We can also supply locking lug nuts to keep those new rims safe and secure.
Our snow tire packages make it easy to equip your car, truck or SUV for the winter. Most people associate snow tires with driving in deep snow or slush. The truth is, anytime the temperature is below 40 degrees, all-season and especially summer tire compounds start to lose traction. If you want the confidence of knowing you'll be able to navigate a tight curve or stop for a red light in colder weather, ask us about our winter tire solutions.
Customer Service and Expertise
Your tires are the only thing connecting your vehicle to the road. Ensuring that you have high-quality tires that are inflated properly and in good condition is paramount to your safety and that of the people you share the road with. We can help you navigate the hundreds of tire models so you can choose a solution that meets your needs, be it for a weekend adventure, the commute to work or when taking the kids to baseball.
Our technicians take pride in the work they do. They will treat your vehicle like royalty when it's in our possession. We use factory-specified lift points to raise the vehicle to prevent damage to the chassis. Our guys use a torque wrench to ensure that each lug nut is tightened to specification so that you and your passengers are safe. With more than 16 years of experience, our mandate is to perform each task to only the highest of standards in the industry to ensure your satisfaction.
Fargo's Automotive Accessory Experts
Whether you want a new set of wheels to enhance your car's performance or to update the styling of your car, truck or SUV, or your existing tires are getting down to the tread wear indicator bars, the team at Audio Garage can help. Drop by our store at 5257 51st Ave. S. and talk to one of our product specialists. If you can't visit the store, call us at 701-353-7266 or click here to send us an e-mail using our online contact form to find out what's available for your vehicle.