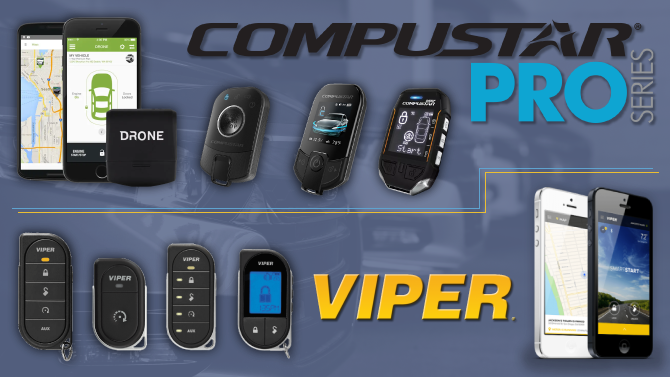 If you live in the Fargo area and are looking for a remote car starter, drop by Audio Garage and speak to one of our product specialists. Our team will work with you to help you choose a system that provides the features and range to suit your lifestyle. Each of our remote starter offerings for this season offers exceptional value and performance.
Viper SmartStart – Smartphone-based Remote Car Starter and Tracking System
The Viper SmartStart system provides full control over your vehicle using an app on your smartphone. You can lock, unlock or remote start your vehicle and receive feedback once the command has been executed. The system uses the internet data connection on your phone to relay a message to your vehicle using cellular communication. An optional service plan adds GPS-based features, including vehicle locating, SmartFence and speed alerts.
Compustar DroneMobile – Control Your Car from Anywhere

The Compustar DroneMobile system makes communicating with your car or truck easy. You'll be able to lock, unlock and remote start your vehicle using your smartphone, usually in less than two seconds, thanks to LTE connectivity. In addition, the system monitors battery voltage and vehicle temperature and will let you know whether the doors are locked or the engine is running. Choosing one of the Premium service plans adds GPS locating and alert features to help you monitor your pride and joy.
Compustar RFX-P2WT13-SF – Ultra-Long-Range Color LCD Remote Starter System

If you need maximum range performance, the Compustar RFX-P2WT13-SF that includes the PRO T13 remote is an amazing choice. This system provides up to 3 miles of range to ensure that your vehicle is comfortable and ready to go when you are. Proximity Unlocking will unlock your vehicle's doors when you approach it. We can upgrade the system with DroneMobile for the ultimate in long-range control. All PRO Series remote starters from Compustar include a three-year warranty on the remotes.
Compustar RF-P2WT12-SS – Ultra-Long-Range LCD Remote Car Starter
Just like its big brother, the T13, the T12 remote in the Compustar RF-P2WT12-SS bundle offers class-leading range of up to 3 miles. Both the T12 and T13 remotes feature a USB-rechargeable lithium-ion battery back, so keeping you in touch is as easy as charging your smartphone. The T12 and T13 remotes carry an IPX7 waterproof rating, so a drop in a snow bank or a dip a swimming pool won't leave you stranded. Both remotes offer two-way communication with the vehicle, so you'll know that the car starter controller has received commands and executed them. We can upgrade the Compustar RF-P2WT12-SS with DroneMobile Telematics for a small additional fee.
Compustar RFX-P2WR5-SF – One-Button Long-Range Car Starter System
The PRO R5 remotes in the Compustar RFX-P2WR5-SF are compact and easy to use. The compact single button handles locking, unlock and remote start functions while the digital communication system provides up to 2 miles of range. The PRO R5 is a two-way remote that includes alerts from the optional DAS-II security sensor. The PRO R5 also includes the same Proximity Unlock feature as the PRO T13 and can be upgraded with DroneMobile for added convenience.
The Compustar RFX-2WR3-FM is a one-button, two-way remote car starter system with a DroneMobile smartphone interface. The remote offers two-way communication, so you'll always know that the doors locked or the vehicle started when you pressed the button. This is an affordable and convenient solution if you need an ultra-reliable starter solution and don't require a trunk release or other auxiliary output features.
Viper 4706V – Two-Way, Five-Button LCD Remote Starter with Range up to 1 mile
If you're looking for long-range performance and detailed information about your vehicle's status, then the Viper 4706V and its LCD two-way remote is a great choice. The LCD screen shows you whether the vehicle is locked or unlocked and whether it's running. It can also display the temperature inside the vehicle. The LCD remote is rechargeable and provides up to a mile of range. A five-button, one-way companion remote is included.
Viper 4806V – Two-Way, Five-Button LED Remote Starter with Range up to 1 mile
The 4806V from Viper is destined to be our most popular remote starter. The system includes a two-way remote with LED function confirmation and a companion one-way remote. Door lock control, remote start functionality, trunk release and more are easily managed with the five-button design. The primary remote includes a micro-USB rechargeable battery that lasts for up to six months between charges.
Viper 4816V – Two-Way, One-Button LED Remote Starter with Range up to 1 mile
Nothing could be simpler to use than the Viper 4816V remote starter. This system includes two one-button remote controls. The primary remote control offers two-way communication at distances up to a mile and confirms that remote start and unlocking commands have been received and executed. The second remote works at distances up to 2,000 feet and provides the same control, but without the feedback.
Viper 4606V – One-Way, Five-Button Remote Car Starter with Range up to 2,000 feet
If you're looking for a simple remote starter with great range and easy-to-use remote controls, the Viper 4606V is a great choice. The system includes one remote control that makes it easy to remote start, lock or unlock your vehicle. If you want to upgrade the system to two-way functionality, we can set you up with one of the optional 7756V or 7856V two-way companion remotes.
3X Lock Auto Start – Start Your Car or Truck with Your Factory Remote
On many vehicles, we can add an auto start system that is controlled by the lock button on the fob or key that came with your vehicle. This solution is easy to use and eliminates the need for an extra remote on your keychain or in your purse. The system's range is limited to several hundred feet and as such, is a great candidate for a Compustar DroneMobile, Viper SmartStart or Voxx MyCar smartphone control upgrade.
Visit Us to See Our Remote Car Starter Models in Person
We look forward to meeting you and providing a remote starter solution that meets your needs. If you would like, click on the link below and send us the year, make, model and trim level of your vehicle. We would be happy to give you an estimate.