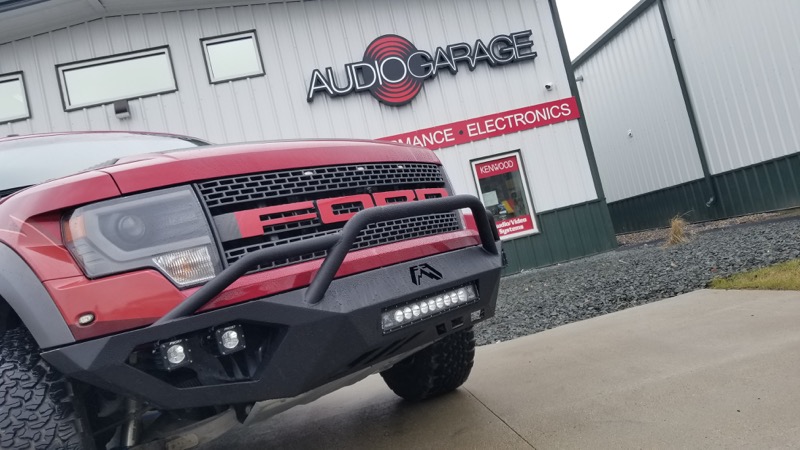 If you're shopping for a grille guard or bumper upgrade for your truck or SUV, drop by Audio Garage in Fargo. Our team of truck accessory experts is here to help you choose the perfect solution that will meet your performance needs while complementing the styling of your vehicle. We also carry accessories like auxiliary lighting, skid plates and winches for off-road adventures and protection from impact and damage.
Truck Bumper Upgrade from Audio Garage
Upgrading the bumpers on your truck or SUV offers a dramatic improvement in both the functionality and style of your vehicle. Switching from a stamped-steel chrome bumper to a tubular or fabricated design from companies like Black Horse, Dee Zee, Go Industries, Go Rhino or Fab Fours will give your truck a decidedly more rugged look. These bumpers have provisions for high-torque winches to help you get out of a jam or help pull a friend out of the mud. Likewise, integrated D-rings are another option for tow straps or snatch blocks.
If you want to upgrade the lighting on your vehicle, many bumpers have integrated mounts for LED cube lights and light bars. Our team can help you choose a solution that is compatible with front and rear parking sensors to ensure your safety and the safety of those around you.
Grille Guard Upgrades Add Protection
If you're concerned about running into a deer or other wildlife, our grille guard upgrades are a worthy investment. Just like our bumpers, these bars mount directly to the frame of your truck or SUV to ensure that you're protected in the event of a collision. These guards feature heavy-duty steel uprights and welded bars that extend to the corners of the vehicle to offer headlight and fender protection.
Off-Road Accessories
Rock sliders, skid plates for transfer cases, oil pans and gas tanks can protect your truck or Jeep from rocks and logs. Fabricated and tubular fenders and impact-resistant cowls are available to protect the upper parts of your vehicle from tree branches.
Expert Installation Services
Whether you've chosen a tubular bumper for a styling upgrade or a heavy-duty fabricated steel grille guard for added protection, our team of expert automotive technicians is available to install anything we sell and get you back on the road quickly and efficiently. We can handle electrical modifications for lighting and winches better than anyone in the Fargo area.
If you're considering upgrading your truck with a new bumper or any other accessories, we invite you to visit Audio Garage in Fargo and talk to our team. We'd be happy to check over your vehicle and help you choose the upgrades that will deliver the functionality, performance and appearance you desire. If you can't stop by, give us a call or send an e-mail using our contact page for more information.