When it comes to making audio systems sound great, the DM-810 digital signal processor from AudioControl is one of our top choices here at Audio Garage in Fargo. With eight inputs and 10 outputs  and full control over crossovers, equalization and signal delay, we can use this amazing unit to transform your car stereo system into a world-class listening experience. Read on to find out how.
AudioControl DM-810 Connectivity
The DM-810 has four pairs of preamp or speaker-level inputs to make integration with an aftermarket radio or premium factory audio amplifier quick and easy. Their GTO (Great Turn-On) Signal Sensing circuit will automatically power up the processor as soon as you turn on your factory radio, and the AccuBASS feature is perfect to help add some bass kick back to a weak signal from a factory-installed source.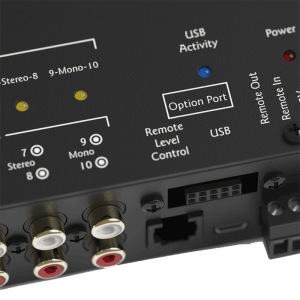 AudioControl has included both coaxial and TOSLINK fiber-optic digital inputs for easy connectivity to an aftermarket integration processor. Finally, an optional Bluetooth streaming module called the AC-BT24 lets you send music from your tablet, smartphone or laptop quickly and easily. Another option is the ACR-3 remote level control. You can fine-tune the system subwoofer output or load a different preset, all from the comfort of the front seat.
System Tuning Features
Our team of expert technicians can configure accurate high-, low- or band-pass crossovers on each of the 10 output channel pairs to suit whatever speakers you choose for your audio system. A 30-band equalizer lets us tame resonances in the vehicle for amazingly natural sound quality. Finally, the signal-delay and accurate output level control help us adjust for the different distances to each speaker in the car. Once configured, your music will come from a phantom soundstage across your dash, or we can make you feel like you are on stage with your favorite performers for a truly lifelike listening experience.
Visit Fargo's Mobile Audio Experts Today!
We invite you to visit Audio Garage in Fargo today to learn more about how we can enhance the performance of your audio system with the AudioControl DM-810 digital signal processor. If you can't drop by, give us a call or send an e-mail using our contact form for more information.