Did you know that Audio Garage in Fargo can install an auto start that works with your factory key fob? That's right: Using the lock button on remotes that came with the vehicle can start the engine and begin warming your car or truck. Not only is this 3X Lock (the name we use to describe the factory fob starting process) easy, it eliminates the need for additional remotes on your keychain.
How Does a 3X Lock System Work?
When you want to start your car or truck, press the lock button on the factory fob three times in quick succession. The auto start hardware we integrate with your vehicle understands that receiving a lock command three times is an instruction to start, and it begins the process. Conveniently, you can shut the car down by repeating the 3X Lock sequence if you decide you don't need to go anywhere.
Benefits of Factory Key Auto Start Systems
First and foremost, by using the remotes that came with your vehicle, you have nothing else to carry. There's no extra remote dangling from the steering column and nothing else in your pocket. You also don't have to worry about having extra batteries around.
Let's Talk About Auto Start Range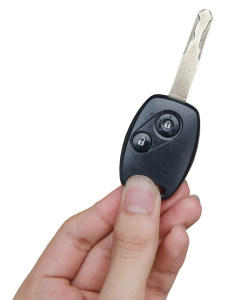 When we talk about range, we're referring to the distance between you (and the remote that controls your auto start) and your vehicle. A remote that transmits a more powerful signal can be used from farther away. Most remotes that come with cars and trucks work up to 250 to 300 feet from the vehicle. If you're inside a building of any kind, this distance is dramatically diminished. This is a limitation of using the factory remote with 3X Lock to start your vehicle.
If you need more range, we can add a smartphone control solution to your starter. With the Viper SmartStart or Voxx MyCar system, you use an app on your phone that communicates with an add-on module in the vehicle to initiate the start process. As long as you and your vehicle have access to a cellular data connection, you have complete control.
We should also note that  the hardware we use in the vehicle is the same whether we're installing a new RF remote or using the factory fob. If you decide a few months or years from now that you want to add an RF remote for longer range or a two-way LED or LCD remote to get confirmation of the vehicle starting, we can do that without any problem.
Visit Fargo's Auto Start Experts
If you're shopping for an auto start, drop into Audio Garage and talk to a member of our team. We'll help you choose the best remote solution for your needs and your vehicle. You can also reach us by phone or e-mail using our contact page.