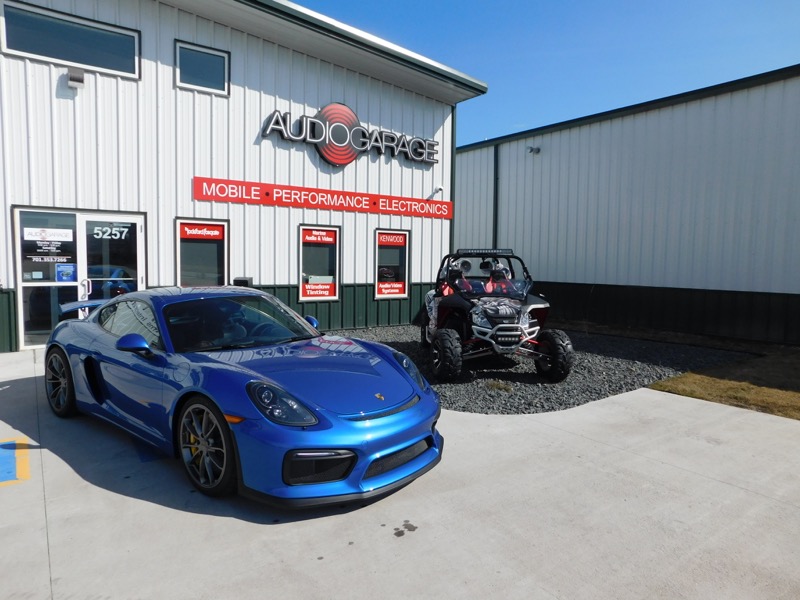 Nothing protects your vehicle like paint protection film from the Audio Garage in Fargo. We have years of experience and expertise in the installation of premium films that will prevent chips and scratches that detract from the appearance of your vehicle. Read on to find out why paint protection is worth its weight in gold.
What is Paint Protection Film?
Our protection film is a transparent layer of urethane that bonds to the surfaces of your vehicle. This heavy-duty film will protect your vehicle finish against chips from rocks, stones and gravel. It is nearly impervious to chemicals like road tar, paint and bird droppings.
Most clients choose to protect the front bumper and the leading edge of the hood on a vehicle. We can add coverage to painted rear-view mirrors, rocker panels, door handle cups and fenders. In fact, several clients have asked us to cover the entire painted surface of a vehicle for the ultimate in protection.
Premium Installation Facilities
When you contact the Audio Garage about window tinting or paint protection, you will be dealing with our owner – Nick Paulson. Nick as almost a decade of experience in the installation of protection films, and was a 3M Certified Film installer for many years. Nick often works on high-end vehicles like Audi, BMW, Mercedes-Benz and Porsche vehicles. In fact, Nick was honored to have applied paint protection film to a Porsche 918 Spyder – one of the most exclusive of hypercars on the planet.
Nick starts every installation with his proprietary paint surface preparation process to ensure the film will lie perfectly flat for the highest gloss finish possible. After contouring the film to the vehicle, he trims the film by hand to ensure the fitment is absolutely flawless. Cutting by hand compensates for variations in vehicle assembly and ensures the results are perfect every time.
Depending on the film you choose, we back our installations and the film itself with a five- or 10-year warranty.
Protection Film Applications
Painted surfaces on cars, trucks and SUVs are all typical applications for protection films. We can protect high-gloss interior surfaces and the finish of your expensive headlights and driving lights as well. Motorcycle gas tanks and fenders are also frequent requests, since they take a beating while you're getting on or off the bike.
We have had requests for many non-automotive applications. Granite, quartz and soapstone countertops will be protected against wine and pasta sauce spills. Stainless steel appliances will remain scratch-free and easy to maintain. We have protected a client's washer and dryer with our protection film.
Deal with the experts at the Audio Garage
When you buy a new vehicle, the sales manager is likely to offer window tinting and paint protection film. More often than not, these products are installed by the same person who washes and rearranges the cars on the lot. Dealerships focus on profitability, rather than performance. The films they use aren't as durable and don't look as good as a premium solution from us.
Protect Your Vehicle
If you want to protect your vehicle and help to maintain its appearance, drop by the Audio Garage and talk to a member of our team. For more information, send us an e-mail using our online contact form.