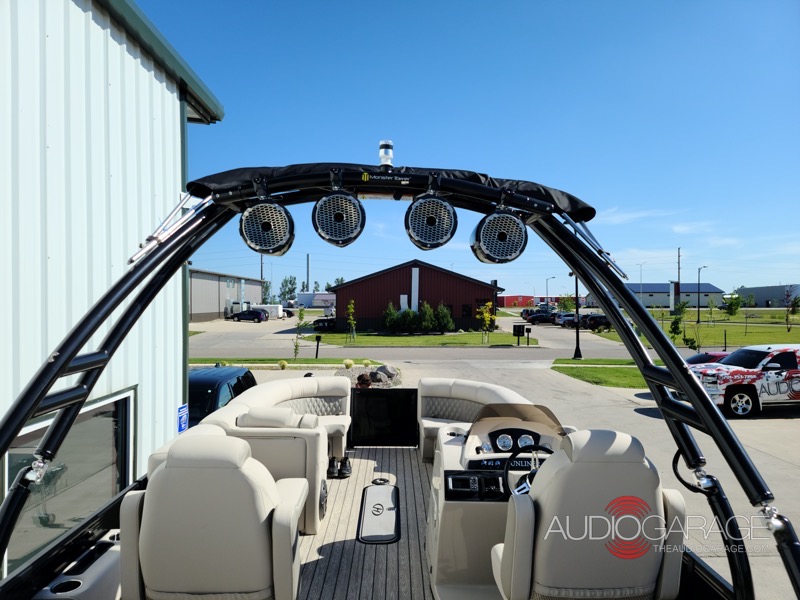 A client from here in Fargo recently returned to Audio Garage for assistance upgrading the audio system on his new Harris Grand Mariner pontoon boat. We've worked on several motorcycle sound system upgrades for this client over the years, so we had a good idea about how he likes to enjoy his music. After learning about the sound system that came with the boat and how he planned to use it, we proposed an audio and electrical system upgrade that would satisfy his needs and expectations.
Tower Speaker Upgrade for Towing Fun
The first order of business was to add two sets of wakeboard tower speakers to the boat. The client chose the 8-inch Rockford Fosgate PM282HW-B enclosures for their balance of size and efficiency. We mounted the tower speakers to the underside of the tower and routed all the wiring through the aluminum tubing for a clean and tidy look.
Two Rockford Fosgate TM400X2ad amplifiers power the tower speakers. Each amp can provide up to 200 watts to each speaker, so there's never going to be a concern that he'll run out of power.
Marine Amplifier and Electrical System Upgrade
The Grand Mariner pontoon boat came with a single, relatively small battery to start the engine and run the electronics. Knowing the client wanted to be able to play the system with the engines off, we upgraded the boat with a pair of marine-grade, SRM-31 deep cycle batteries and a high-current isolation solenoid. We also added a Noco Genius GEN3 battery charger. The charger has three dedicated 10-amp outputs and optimizes the charge state on each battery individually to ensure they're ready to go.
The boat came with three pair of JL Audio M3-Series coaxial speakers. We added a JL Audio M600/6 six-channel amp to provide up to 75 watts to each speaker. The multi-zone controls on the JL MediaMaster source unit allow the client to adjust the output of the interior speakers and the tower speakers separately to suit cruising and skiing or tubing fun!
Fargo's Marine Audio Upgrade Experts
After a few days of work, we had the equipment installed and the amplifiers configured to work with the new speakers and the source unit. The client returned to Audio Garage in Fargo to listen to the system. He was blown away by the clarity and output capabilities of the system! If your boat's stereo can't put a smile on your face, drop by our store and speak with one of our Product Specialists. You can also reach us by phone or by e-mail to schedule a personal consultation or learn more about the products and services we offer.