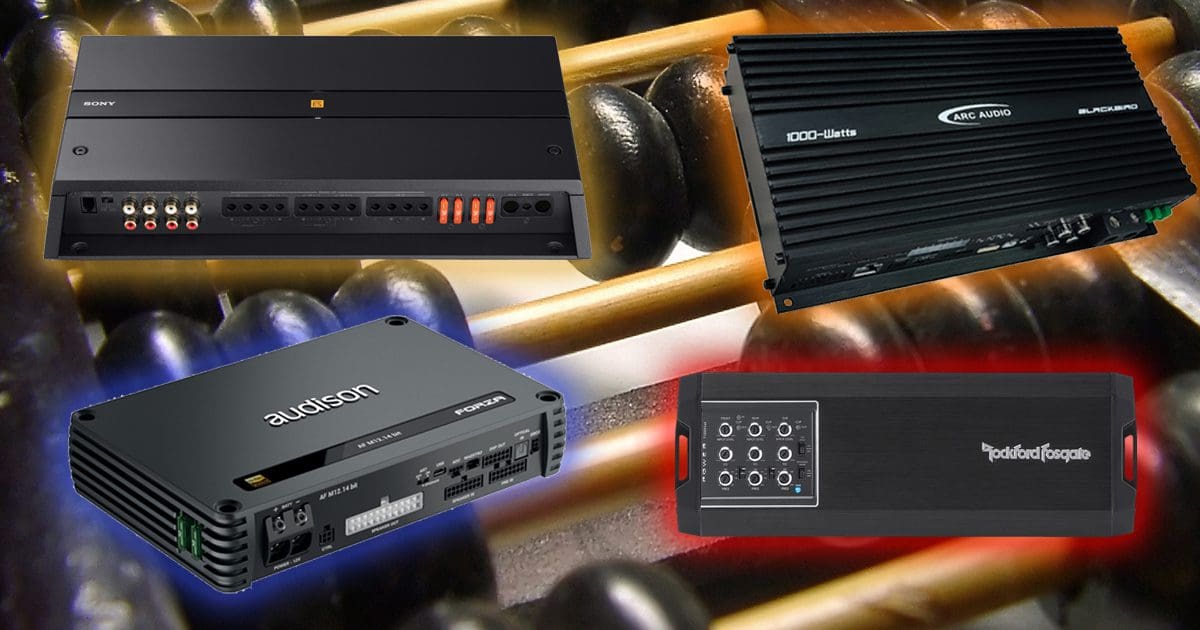 If you've been paying attention to the car audio industry over the last decade, you know that the number of discrete channels available from quality amplifiers has increased steadily. Some better brands now have solutions with as many as 12 channels. So let's consider why you might want more amplifier channels in your car audio system.
Car Audio Systems Using Amplifiers in Radios
The most straightforward car audio system would include a radio and a pair of speakers. This sound system would be adequate for letting you listen to the news or play your favorite music. Most radios include a small four-channel amplifier integrated circuit that can produce between 15 and 20 watts of power. With reasonably efficient speakers, that's enough for many people. So, as a minimum, your car stereo system needs two channels to allow the system to reproduce a stereo audio signal and send independent information to the left and right speakers.
If you want the audio system to play a little louder, have a specialty car audio retailer add a second set of speakers to the rear amplifier channels built into the radio. Now, each speaker will receive 15 to 20 watts of power, and assuming the speakers are of the same efficiency, the system can play at least 6 dB louder.
When four channels of amplification are available, you can use the fader control to adjust the relative output levels of the front and rear speakers.
If you want a dramatic improvement in performance and output capability from a deck-powered audio system, we strongly suggest adding a subwoofer. Even a modest amplified subwoofer can make a significant difference to the perceived quality of your audio system. In addition, the dedicated subwoofer can reproduce low-frequency audio information at higher volumes.
Audio Systems with External Amplifiers
Let's look at systems with external amplifiers. We'll start with a basic two-channel amplifier. Most car audio amplifiers are capable of driving a 2-ohm load. The ability of an amplifier to drive lower impedances means your installer could wire two 4-ohm speakers in parallel to each channel without upsetting the amplifier. As such, you could use a two-channel amplifier to power four speakers with the two left speakers on one channel and the two right speakers on the other. Back in the '80s and early '90s, some car audio manufacturers suggested using 4-ohm speakers for the front and 8-ohm speakers for the rear with a two-channel amplifier. The goal was to reduce the power sent to the rear speakers to help improve the perception of the sound coming from the front of the vehicle. Remember, if you're after the best sound quality, most amplifiers add distortion when driving lower impedances.
If you want to control the relative level of the front and rear speakers in your car stereo system, you'll need a four-channel amplifier. Assuming the radio has front and rear RCA preamp outputs, the fader control on the radio will adjust the relative volume of the front and rear speakers.
One popular audio system configuration uses a four-channel amplifier with two sets of speakers and a subwoofer. The front and rear speakers would be connected to one pair of channels, and the second pair of amplifier channels would be wired in a bridged configuration to provide more power to the subwoofer.
If you want more system flexibility, try a five- or six-channel amplifier. The extra stereo channels will add the ability to adjust the relative volume level of the front and rear speakers while using a dedicated pair of channels in a bridged configuration or a high-power mono for a subwoofer.
Actively Filtered Car Audio Systems
If you want the most control over each speaker in your car audio system, dedicating an amplifier channel to each one is the best way. The challenge here is that the amplifiers must have crossovers that will allow each speaker to receive only the range of frequencies for which it is designed. Some higher-end radios include three-way crossover modes with high-pass filters for coaxial drivers or tweeters on the dash, bandpass crossovers for midrange or midbass drivers in the doors and a low-pass filter for the subwoofer. Many five- and six-channel amplifiers also include crossovers with adjustable range crossovers that can handle bandpass filtering on a midrange driver and a high-pass crossover for a tweeter.
The next step from the above system is to include a digital signal processor to handle the filtering, delays and channel-by-channel equalization. While radios like the Sony XAV-9500ES have all these features, very few (if any) radios on the market include channel-specific crossovers. In this case, you must include an external digital signal processor to handle the filtering, delays and equalization. If you want to use a mid and tweeter in the front and a subwoofer in the back, you will need a DSP with six outputs (three for the left and three for the right) and a five- or six-channel amplifier.
If you don't already have an amplifier, you might want to consider purchasing one with a built-in digital signal processor. These all-in-one processing and amplification solutions simplify the installation and reduce the interconnect cables required to feed signals around the system.
The next step up takes two routes. First, if you have passengers in the rear of your vehicle or prefer to have the sound from your stereo wrap around you as you'd hear at a club or when listening to headphones, you might want to add rear speakers. You'll need another pair of amplifier channels for the rear speakers. No name-brand car audio amplifier manufacturer (that we know of) offers a seven-channel amplifier. You'll need to go with an eight-channel amp and use a pair of channels bridged to power a subwoofer.
The alternative is to move up from the three-way system to a four-way design with tweeters, midrange drivers, midbass drivers and a subwoofer. The benefit of a four-way system is that the midrange drivers can be placed higher in the vehicle – in the dash, at the top of the doors or in custom pods on the A-pillars or sail panels. These higher midrange mounting locations can improve the perception of stage height. A three-way front stage also allows each speaker to operate in a frequency range where directivity becomes less of an issue so that the audio system will sound better from both front seats.
Many eight-channel amplifiers include RCA preamp outputs that can be used to power additional amplifiers. A popular option for those who enjoy listening to music at higher volume levels is to bridge two pairs of the eight channels to provide more power to the midbass drivers, then use an external high-power amplifier to drive the subwoofer.
If you wanted to add rear speakers to the above configuration, you'd need two more channels for 10.
We aren't going to delve into the world of re-amplifying premium factory-installed audio systems like Bose Centerpoint and Harman Quantum Logic Immersion. Those can quickly require 12 or more channels of amplification to cover mid-level systems. For example, some of the Harman audio systems included in vehicles from Lexus have 23 speakers and 16 channels of amplification. Dealing with these systems involves complex elements that include active noise cancellation and volume-based response changes, as well as signal delays and all-pass filters.
One last thought: You don't have to choose a single amplifier with the number of channels you want. For example, you could use a two-channel amp for a pair of front speakers and a monoblock amp for a subwoofer for three channels. A popular system configuration is a four-channel amp for front and rear speakers and a monoblock amp for a sub. Some elaborate systems use two four-channel amplifiers for the front speakers. One amp would run the left tweeter, the left midrange and the left midbass from a pair of bridged channels. The other four-channel amp would power the three right speakers. This configuration can improve stereo separation a bit but is complex and expensive.
There are many other ways to configure car audio systems, and each has different amplifier channel requirements and benefits. This article covers some of the most common to help you understand what the product specialist you're working with might suggest. Before shopping, think about how you like to listen to your music and how loudly. Provide that information to the team at the specialty mobile enhancement retailer you're working with, and they can quickly narrow down the number of amplifier channels you'll need.
This article is written and produced by the team at www.BestCarAudio.com. Reproduction or use of any kind is prohibited without the express written permission of 1sixty8 media.