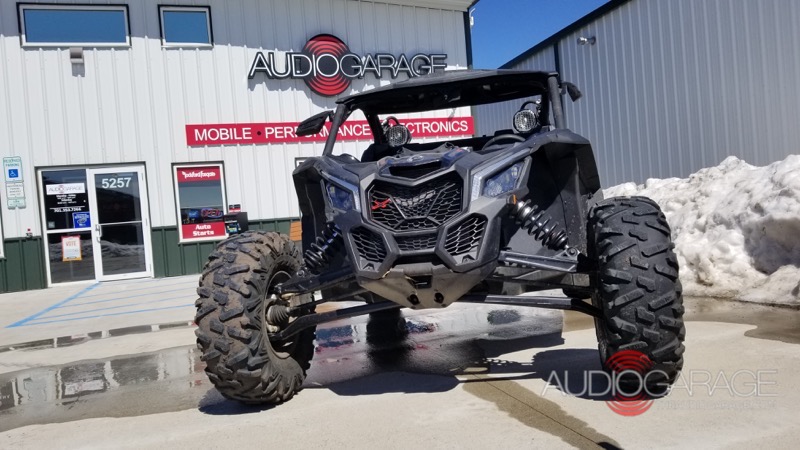 A longtime client from here in Fargo recently contacted Audio Garage about installing a sound system on his 2017 Can-Am Maverick X3 side-by-side. The client owns a small engine repair shop and works on ATVs, 4-wheelers, jet skis and, of course, side-by-sides and wanted something special for his vehicle. Knowing that he loves his music loud and clear, we suggested the Rockford Fosgate X3-Stage 5 system for his weekend fun machine.
Rockford Fosgate Powersports Audio Systems
We started the project with the installation of the Rockford PMX-2 digital media receiver in the dash of the X3. The kit comes with the RFX3-PMXDK dash kit that also works with several models of Ranger side-by-sides. The PMX-2 is an AM/FM digital media receiver with Bluetooth and a 2.7-inch LCD screen. Should the client wish, we can add a backup camera to the PMX-2 to make maneuvering the vehicle easier.
1,000-Watt Can-Am Maverick Audio System Amplifier
The output of the PMX-2 feeds to a Power-Series five-channel amplifier that is mounted up under the dash of the X3. The TM1000X5ad is a marine-grade amplifier that delivers 100 watts per channel to the front and rear speakers and an impressive 600 watts of power to the system subwoofers.
Custom Powersports Speakers
Next on the to-do list was the installation of the front speakers on the dash of the Maverick. Rockford provides a set of Punch-Series PM2652B 6.5-inch marine-grade coaxial speakers and a set of RFX3-FSE front mounting panels for the X3. The mounting panels place the speakers up high, so they're easy to hear.
For rear speakers, a set of black PM2652W-MB Rockford Punch 6.5-inch mini can speakers and mounting brackets bolt to the rear roll cage to provide amazing sound. The kit includes speaker wiring for all four speakers, and automotive-grade weathertight quick-connects ensure that the system will remain reliable even if things get wet.
Dual 10-inch Subwoofer System
The icing on the cake for this Maverick X3 Turbo R audio upgrade are the dual 10-inch subwoofer enclosures that fit under the seats. Each enclosure is custom built for the vehicle out of thick roto-molded plastic. A pair of Punch-Series RM110D2B 200-watt subwoofers deliver clean and clear bass that blends perfectly with the front and rear speakers.
North Dakota's Powersports Audio Experts
After a long day installing and configuring the Maverick X3 Turbo R audio system, the vehicle was ready for the client to pick up. He hopped in for a listen and was immediately impressed with the clarity and output capabilities of the system. If you're interested in a Rockford powersports audio system for your Yamaha, Can-Am or Polaris vehicle, drop by Audio Garage in Fargo or use our contact page to send us an e-mail.