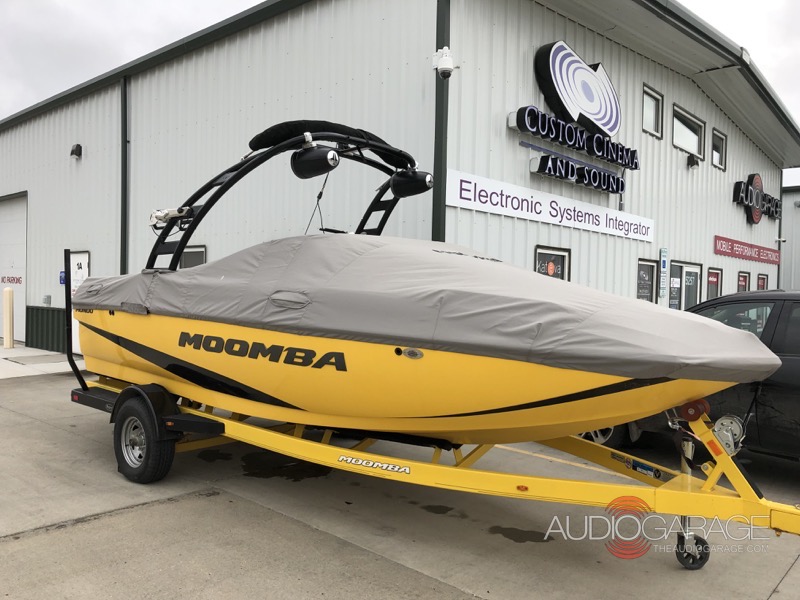 A client from here in Fargo recently contacted the team at Audio Garage to inquire about replacing some wakeboard tower speakers on his 2014 Moomba Mondo wakeboard boat. The original tower speakers that came with the boat had started to fail because they weren't true marine-grade products. After talking to the client, we confirmed that he wanted a solution that would sound better and play much louder. We inspected the boat to confirm our plan, then set to work installing a premium tower speaker and amplifier upgrade.
Moomba Mondo Wakeboard Tower Speakers by JL Audio
When it comes to marine-grade speakers, nothing on the market can equal the performance and reliability of JL Audio's M6-Series speakers. Not only do they sound great, but they are also designed from the ground up to withstand long-term exposure to water and UV rays without failing. The client chose a set of M6-880ETXv3-Sb-S-GmTi-I enclosures for his boat tower. While that looks like the longest part number in history, it all means something. M6 refers to these being from the premium series of speakers, and the 8.8 describes the diameter of the speakers in inches. ETXv3 in the part number confirms that these are the third generation of JL Audio's enclosed tower speakers. The Sb addresses the satin-black paint finish on the fiberglass enclosures. S-GmTi describes the sport-series grille finished in gunmetal with titanium-colored accents. Finally, the lowercase i means that these speakers include JL's Transreflective RGB illumination system.
Marine Amplifier for Big Sound
After removing the original speakers, our team ran MESA speaker wire through the tower to a four-channel JL Audio M400/4 amplifier. We configured each pair of channels to drive a single speaker so there would be as much as 200 watts of power available.
We also ran new power and ground cable from the amp to the batteries to ensure that the system would operate efficiently and reliably. After connecting the amp to the factory-installed radio, we set the amp's sensitivity controls to enable the system to play loud without distorting. We also started the engine on the boat to confirm that no electrical interference would take away from the listening experience.
Fargo's Marine Entertainment Experts
With everything buttoned up, we called the client to let him know that we had completed the installation of the new tower speakers and amplifier on his Moomba boat. He returned to Audio Garage in Fargo and was thrilled with the quality and attention to detail of our installation and the way the new speakers sound. If you are in the market for audio system upgrades for your boat, drop by our store, give us a call or send our team an e-mail using our online contact page.