There's no easier way to start your car or truck remotely than with the Compustar RFX-P2WR5-SF from Audio Garage in Fargo. This one-button car starter, also called the PRO R5, offers up to 2 miles of range with a two-way design that ensures you'll always know what's happening with your vehicle.
Compustar PRO R5 Delivers Comfort and Convenience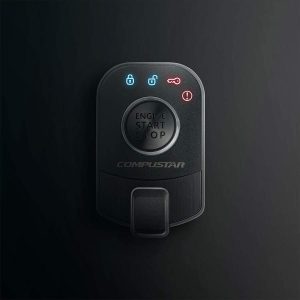 Compustar Pro Series remote starter systems like the PRO R5 are designed and tested to deliver reliable performance and fantastic convenience. Tap the button once, and your vehicle's doors will lock. Press the button twice, and the doors will unlock. Press and hold the button for three seconds, and the remote start process will be initiated. Should you want to stop the engine, just press and hold the button again for three seconds.
All commands from the remote to your vehicle are confirmed by one of the LED icons flashing and a chirp from the remote. Two-way communication ensures that you never have to wonder if your doors are locked or if the car has started.
If you've chosen to upgrade the starter with the Compustar DAS-II security sensor, the system will monitor the vehicle for impacts, motion, tilting or glass breakage. Not only will the siren in the vehicle sound, but the exclamation point LED on the remote will flash and a beep will be produced, so you'll know someone or something is tampering with your vehicle.
The Compustar RFX-P2WR5-SF system is compatible with most gasoline and diesel vehicles with automatic or manual transmissions. In addition, we can work with the majority of push-to-start ignition systems and even keyless entry systems to add the convenience you want. Speaking of keyless entry, the PRO R5 includes the Proximity Unlock feature. When activated and within 3 to 6 feet of the vehicle, the doors will unlock automatically.
Upgrade Your Car or Truck with Fargo's Best Remote Car Starters
If you're shopping for a way to make getting into a car or truck more comfortable on a cold winter morning or hot summer day, drop by Audio Garage in Fargo and ask about the Compustar PRO R5 car starter. A member of our team would be happy to explain the features available for your vehicle. If you can't drop by the store, give us a call or send our team an e-mail using our contact page.