If you're shopping for a remote car starter with the ultimate in range and convenience, the Compustar RFX-P2WT13-SF is the undisputed champion. This two-way system includes an LCD remote that offers up to 3 miles of range, a one-button R5 remote with two miles of range and the amazing DroneMobile smartphone control system.
Compustar RFX-P2WT13-SF Features
The primary remote in the RFX-P2WT13-SF is the PRO T13 two-way remote. This USB-rechargeable, lithium-ion-powered remote includes a color display that lets you know the status of your vehicle and when a command has been received and executed by the car. You'll never have to wonder whether the doors are locked or the vehicle started when you pressed the button. The remote can also control power trunk or tailgate release and sliding van door activation.
The high-power antenna system is the strongest in the industry. While you might not need to start your vehicle from 3 miles away, this extra power helps to ensure that the system works properly when you are in an apartment, a factory or a large store. For example, you could be seated high in Section 23 at the FargoDome and still be able to start the vehicle, even if it's parked right at the intersection of 17th and North University.
Automatic Convenience Adds Comfort
This Compustar remote starter has some impressive built-in intelligence. For example, if we've integrated the rear window defroster into the control system, it will automatically activate if you start the car and the interior temperature is around freezing. In many applications, we can also extend this functionality to a heated steering wheel or heated seats.
The PRO T13 remote includes Compustar's new Proximity Unlock feature. So when you walk up to your vehicle, the doors will automatically unlock when you are a few feet away.
DroneMobile Makes Control Easy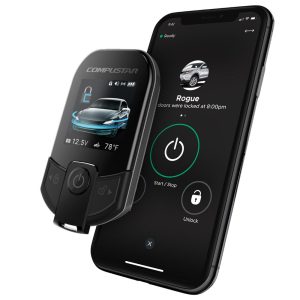 The PRO T13 and PRO R5 one-way remote package includes the Compustar DroneMobile. This telematics system allows you to send commands to the starter using your smartphone. So you could be on the beach in Florida and still have complete communication with the vehicle.
Fargo's Best Remote Starters
Drop by Audio Garage in Fargo to learn more about adding the Compustar RFX-P2WT13-SF to your car or truck. If you can't get to the store during regular business hours, give us a call or use our contact page to send us an e-mail.