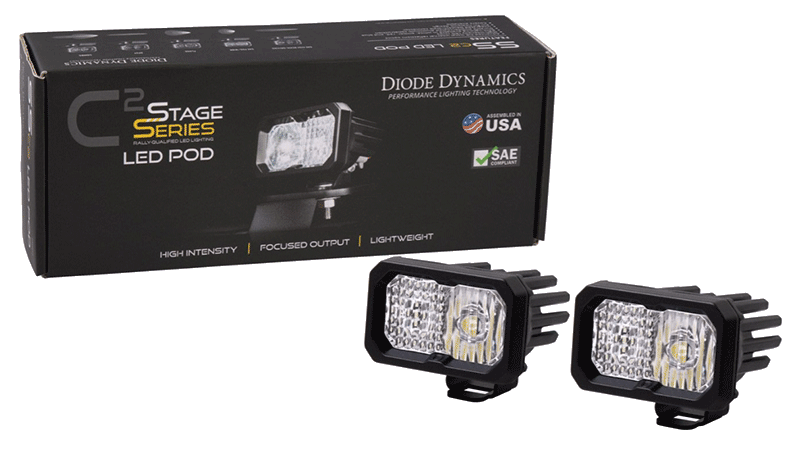 If you're searching for a high-performance LED lighting upgrade for your vehicle, drop by Audio Garage in Fargo and ask about the amazing Diode Dynamics SSC2 LED pod lights. These compact pods are designed for situations where a typical light bar won't fit. With dimensions of 3.3 by 2 inches, these lights are perfect for grilles, bumpers, roof racks or roll cages.
Diode Dynamics SCC2 LED Light Pods
The Stage Series C2 pods feature high-performance Luxeon Z ES LED emitters for fantastic light output and excellent efficiency. The lights use a cast alloy frame with a pin-fin heatsink on the rear that's completely passive. The lights have passed the Society of Automotive Engineers SAE J575 durability test and are IP67-rated for water and dust ingress protection. In short, they can take a beating and keep lighting your way.
Pod Light Beam Options
Since each application is different, Diode Dynamics offers these LED pods in five beam patterns. The SAE High Beam/Driving and Fog/Wide patterns are suitable for on-road use to improve long-distance vision or to illuminate the area in front of the vehicle. The flood pattern is a good choice for roof racks, roll cages or rear bumpers where the area around a vehicle needs light. The narrow spot pattern is perfect for high-performance driving applications where the most extended range possible is required. Finally, the combo light combines driving light and floodlight patterns in a single housing to light up the trail and let you see off into the distance.
SSC2 pods are available in white or selective yellow. Each pod also includes a backlight in white, amber, red or blue. Finally, you can choose from two power levels: Sport or Pro. The Pro solution produces more than twice as much light output as the Sport models, lighting up as far as 2,000 feet in front of the vehicle.
Upgrade Your Vehicle Lighting at Audio Garage
If you're shopping for a reliable, compact, high-performance light upgrade for your vehicle, drop by Audio Garage in Fargo and ask about the new Diode Dynamics SSC2 LED pod lights. You can also reach us by phone or e-mail for additional information.