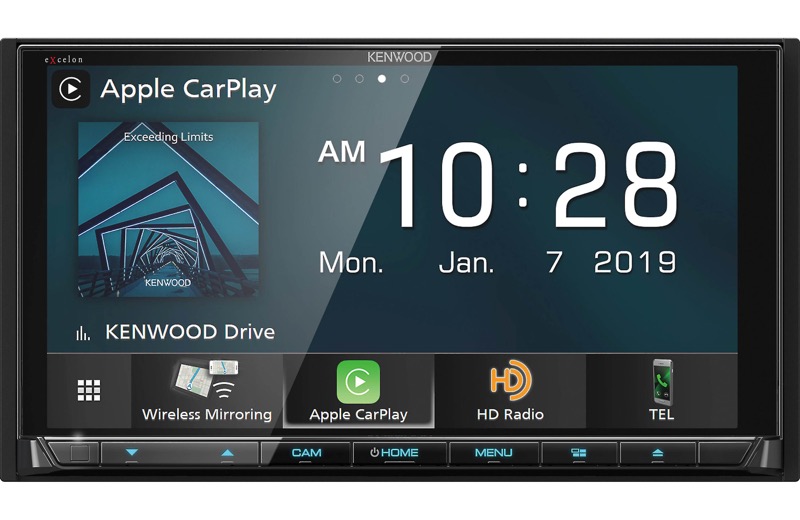 If you are looking for the ultimate radio for your car, drop by Audio Garage in Fargo and ask for a demonstration of the new Kenwood eXcelon Reference Series DDX9906XR 2-DIN multimedia receiver with Apple CarPlay and Android Auto. This amazing radio features a 6.75-inch display with a capacitive touch interface that makes it easy to see everything on the screen and select the functions you want. Let's look at just a few of the key features of this amazing new source unit.
Non-Stop Entertainment for Your Next Adventure
The Kenwood DDX9906XR offers HD Radio, an optical mechanism to play CDs and DVDs and dual USB jacks on the back of the unit for digital audio and video files or entertainment stored on your iPhone or Android smartphone. An SD card slot behind the folding display expands the USB support for MP3, WMA, AAC, WAV and FLAC audio files and MPEG-1/2, WMV, MKV and H.264 compressed video files. You can add SiriusXM with the SXV300 or stream Pandora and Spotify from your smartphone.
As part of the eXcelon Reference line, the DDX9906XR is chock full of audio processing features to make your car audio system sound amazing. The system includes adjustable electronic two- or three-way crossovers and a powerful 13-band graphic equalizer that feeds to a 24-bit/196 kHz DAC for great sound.
State-of-the-art Smartphone Integration
The DDX9906XR includes wireless Apple CarPlay and Android Auto to let you control your phone using your voice. You can make a phone call, send a text message or choose the entertainment source you want by asking for it. Turn-by-turn navigation information is available from Apple Maps, Google Maps and Waze to help you reach the destination of your choice quickly and efficiently.
As with most Kenwood multimedia receivers, the DDX9906XR is compatible with iDatalink Maestro RR and RR2 to provide seamless integration with your vehicle.
See the Kenwood DDX9906XR at Audio Garage Today!
If you are interested in upgrading the infotainment system in your car, drop by Audio Garage in Fargo to check out the new DDX9906XR. Give us a call or send an e-mail using our contact page for more information about any of our products or services.