When it comes to getting the most performance possible out of a car audio system upgrade, the team at Audio Garage in Fargo turns to the Rockford Fosgate DSR1 digital signal processor. This eight-channel DSP includes all the features we need to maximize the realism of your mobile audio system. Best of all, it works directly with iDatalink Maestro AR modules to upgrade factory sound systems with CAN Bus communication systems.
DSR1 Features and Specifications
The PerfectTune software provides access to high-, low- and bandpass crossovers for each pair of channels with slopes up to 24 dB in band-pass mode and 48 dB in high- or low-pass mode. The signal delay features allow us to compensate for the driver's proximity to the left speakers, and we can dial in as much as 10 milliseconds of delay if required. Each output has a 31-band parametric equalizer that our team can use to tame resonances and reflections in the vehicle. Finally, the precise output level controls let our technicians perfect the signals from each speaker to make your listening experience amazing.
Maestro Integration Makes Audio Upgrades Easy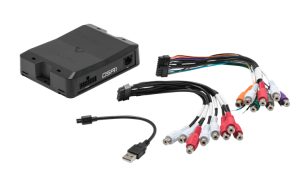 If you drive a relatively new Chrysler, Dodge, Ford, Maserati, Lexus, Subaru, Ram, Jeep or Toyota vehicle, the iDatalink Maestro interface will allow your factory radio to control the outputs of the Rockford Fosgate DSR1. We can remove the factory amp and add high-power amplifiers and speakers and use this amazing DSP to provide seamless control over the entire system. The compact size of the DSR1 also makes it a great solution to undo the Boom!Box tuning on 2014 and newer Harley-Davidson motorcycles.
Why Your Audio System Needs the Rockford Fosgate DSR1
Experts tune even the simplest factory audio systems before these vehicles begin production. When we upgrade your car stereo with better speakers, subwoofers and high-power amplifiers, we recreate that tuning process. Once configured, you won't hear your speakers – you'll hear your music coming from a phantom soundstage that spans the width of the dash. It's like being at the console of a world-class recording studio or in the front row at your favorite concert.
To experience the Rockford Fosgate DSR1, drop in to Audio Garage in Fargo. You can also reach our team by phone or by sending us an e-mail using our contact page.