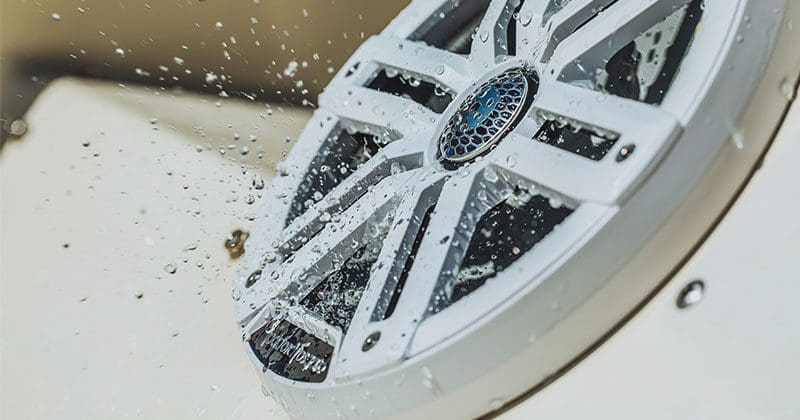 When it comes to delivering great sound on your boat or powersports vehicle, the M2 series of subwoofers and coaxial speakers from Rockford Fosgate delivers fantastic performance. These Element Ready speakers and subs not only sound impressive, but they look cool and are designed with materials that can handle the worst punishment Mother Nature can dish out.
Rockford Fosgate M2-Series Coaxial Speakers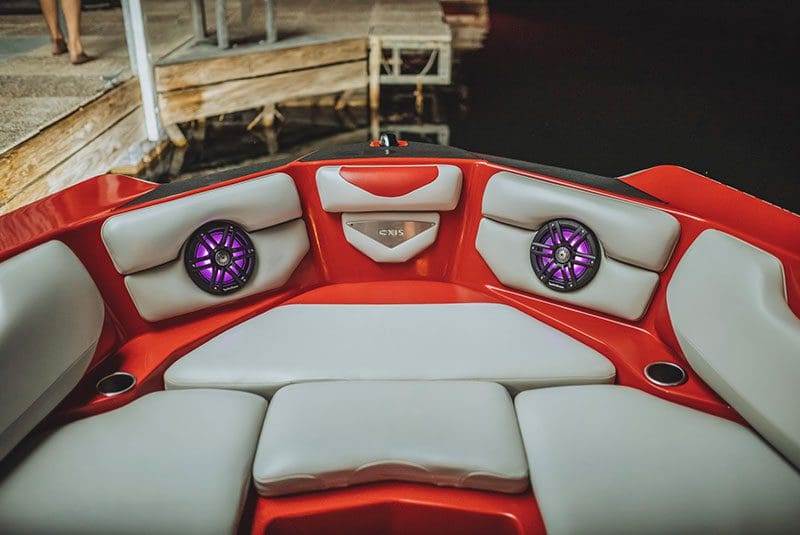 Whether you need a speaker for the dash of your side-by-side or the bow of your boat, the new M2 coaxial speakers from Rockford Fosgate are a great choice. The models of the flagship M2 series combine the best audio performance, the coolest styling and the most power handling available.
You have your choice of 6.5- or 8-inch coaxials in black or white. In addition, all the M2 speakers and subwoofers include the Color Optix feature with integrated RGB LED illumination. When combined with the PMX-RGB controller, you can choose from hundreds of color options to add extra style to your vehicle. You can even control the lighting using your Apple or Android smartphone using the RF Connect app.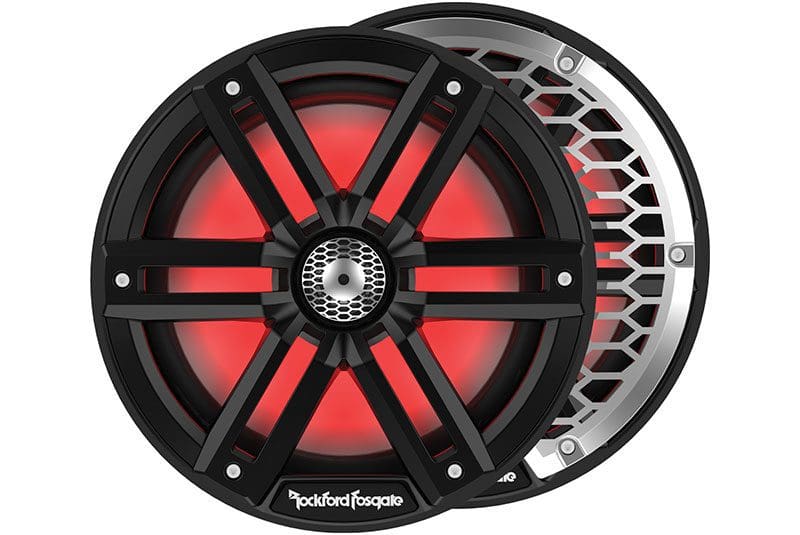 The M2 coaxial speakers are based on an injection-molded PA66 glass fiber reinforced frame that offers good rigidity. The mineral-filled polypropylene woofer cones feature a thermoplastic elastomer surround and Rockford Fosgate's Vertical Attach Surround Technique (VAST) that increases effective cone area. A 1-inch voice coil wrapped around a Kapton former is at the heart of these drivers. The 1-inch tweeter in each speaker features a dual neodymium magnet motor and a laminated "PXNX" diaphragm design for clean, crisp highs. The tweeter is suspended above the woofer, so there's no pole piece to take up valuable space. This design increases the surface area of the woofer for more output. Electrical connections are made via corrosion-resistant brass terminals or waterproof Deutsch-style connectors.
The RGB LED lighting is concealed and protected by an optically clear, UV-stable lens. In addition, a weathertight Deutsch connector is provided for each driver so your installer can connect the LEDs in the grille to the controller. Speaking of the grille, you can choose from the twin six-spoke Sport option or the stainless steel mesh design.
Every component used on the speakers includes UV inhibitors, which help ensure that they look great and won't break down and yellow, chalk, crack or fade when exposed to harsh sunlight. The speakers pass the ASTM G154 500-hour accelerated weather test for UV exposure and the ASTM B117 500-hour salt fog exposure test. In addition, the ISO 60068-2-24 structural integrity test confirms that the designs can handle the bumps and impacts common to marine and powersports applications.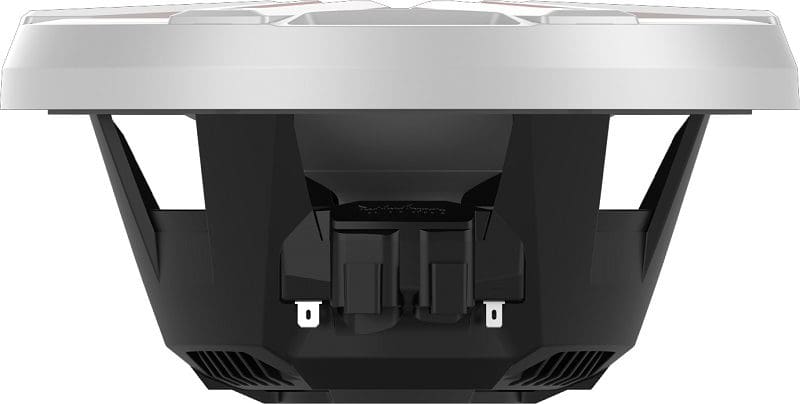 The M2-65 (white) and M2-65B (black) speaker sets have a power rating of 150 watts continuous and 600 watts peak power. The speakers have a nominal impedance of 4 ohms and a 1-watt, 1-meter sensitivity of 91.8 dB. The 8-inch M2-8 and M2-8B speakers up the power handling to 250 watts, with peak power rated at 1,000 watts. Sensitivity increases to an impressive 93.1 dB at 1-watt, 1-meter.
This driver design is also available in Rockford Fosgate's M2 two-way wake tower speakers in white or black.
M2 Subwoofers Bring Fun to the Party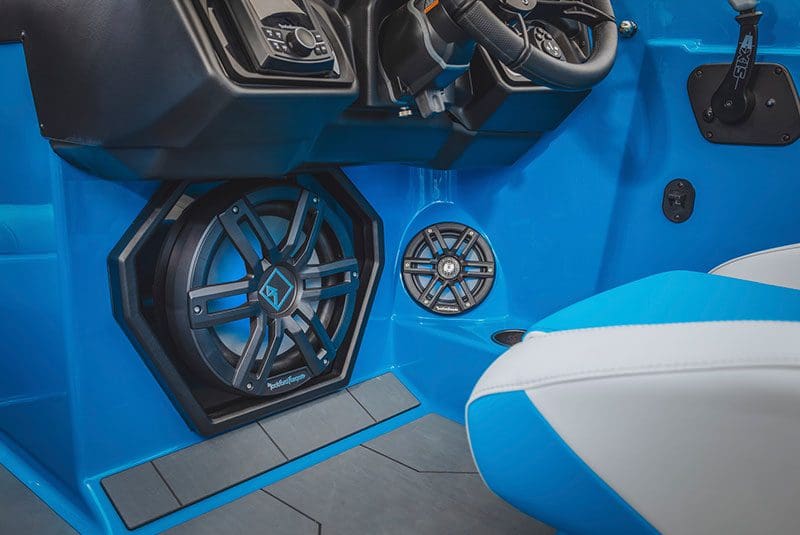 Of course, no serious mobile sound system is complete without subwoofers. Rockford Fosgate has you covered with no less than 16 options. First, you have your choice of 10- or 12-inch drivers in dual 2-ohm or dual 4-ohm voice coil configurations. Next, you can pick from white or black cosmetics to complement or contrast your vehicle. Finally, you can choose from drivers designed for infinite baffle or sealed applications. Any combination of the above criteria is available to ensure that your boat looks and sounds the best it can. All the subwoofers in the M2 series feature Color Optix RGB LED lighting built-in. Deutsch connectors are provided for both speaker power and lighting connections for a clean and tidy installation.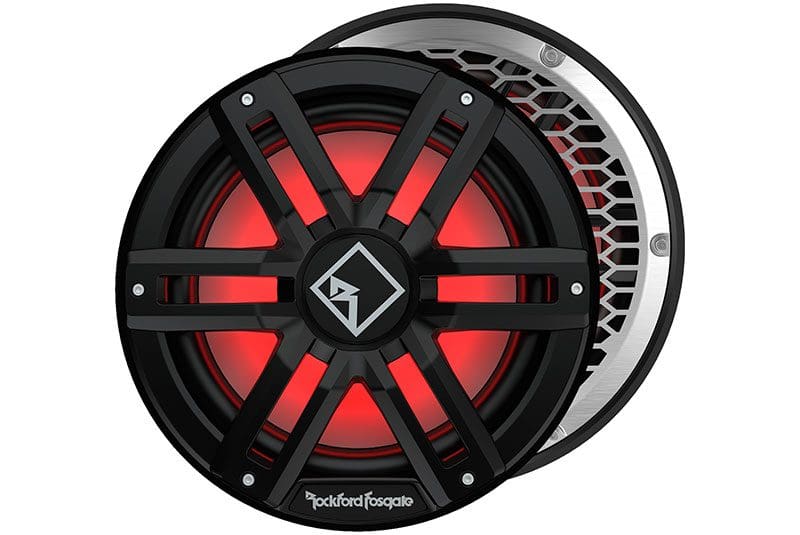 The subwoofers feature 1.95-inch two-layer voice coils and are rated to handle 400 watts continuously with peaks of 1,600 watts. The specific Xmax specification varies by model, but all are around 0.5 inch in each direction. The 10-inch sealed subwoofers will work in enclosures as small as 0.5 cubic foot, and the 12's require at least 0.75 cubic foot. Wisely, the owner's manual has suggestions for implementing a (correctly named) infrasonic filter in vented enclosure and infinite baffle installations.
The included Versa switch allows your installer to switch from series or parallel voice coil wiring quickly during installation. In addition, the subwoofers are made from materials similar to that of the coaxial speakers and pass all the same physical and environmental test requirements to function reliably.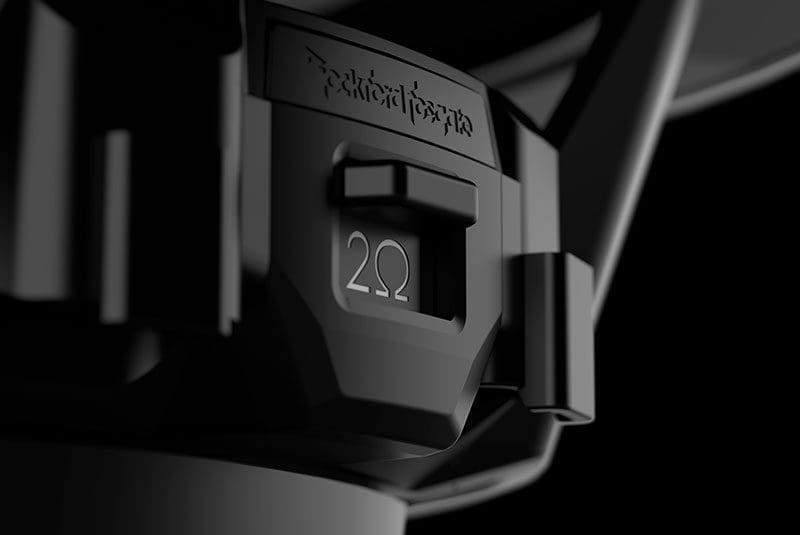 Upgrade Your Adventure with Rockford Fosgate Speakers and Subwoofers
If it's time to upgrade the audio system on your boat or powersports vehicle, drop by your local authorized Rockford Fosgate dealer and ask about the complete line of Element Ready M2 subwoofers and coaxial speakers. They'd be happy to design a system that will sound amazing. You can find a dealer in the U.S. or Canada using the Dealer Locator on their website. Also, be sure to follow the Rockford Fosgate Facebook page, Instagram feed and YouTube channel to be the first to see the latest demo vehicles and new products from our friends in Tempe, Arizona.
This article is written and produced by the team at www.BestCarAudio.com. Reproduction or use of any kind is prohibited without the express written permission of 1sixty8 media.