When it comes to protecting the paint finish on your car or truck, Audio Garage in Fargo turns to SunTek Paint Protection Film Ultra. This transparent film acts as a barrier between the clearcoat and impacts from rocks or stones that could chip the paint or road tar and bugs that can cause stains. If keeping your vehicle looking like new is your goal, SunTek Ultra is a great investment.
What is SunTek Paint Protection Film Ultra?
This durable urethane film is designed to be applied directly to your paint finish to absorb impacts and prevent damage. The film is optically transparent, so we can cover even the most elaborate paint finishes without changing the look of the vehicle. The high-strength adhesive won't turn yellow, and SunTek backs the film with a 10-year warranty against peeling and bubbling.
What Makes Ultra Film Different?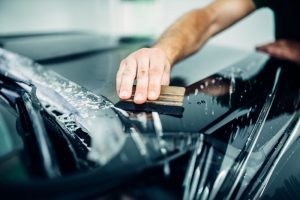 Part of keeping your vehicle looking like new is a strict regimen that involves keeping it clean. Ultra film features a HydroResist top layer with hydrophobic properties that repels stains from bugs and tar. At the same time, dust and dirt are easy to wash off, so less pressure is required from your microfiber cloth or wash mitt while cleaning.
If you should scuff the surface of the film, the self-healing properties will, when exposed to heat, restore a smooth glossy finish. This helps keep your vehicle looking like it just rolled off the showroom floor.
Protect Your Vehicle Today
The most common installation locations for paint protection film (also known as clear bra) are the front bumper and the leading edge of the hood. We can also protect the fenders, side-view mirrors, rocker panels, the trunk lip or anywhere you want to prevent paint damage.
Visit the Vehicle Enhancement Experts at Audio Garage Today
Whether you're interested in SunTek window tint or Paint Protection Film Ultra, the automotive enhancement experts at Audio Garage in Fargo have a solution for almost every vehicle on the road. Drop by our store and speak to one of our specialists. They can help you choose the right product to  keep your vehicle looking great for years. For more information, give us a call or send our team an e-mail using the contact form.