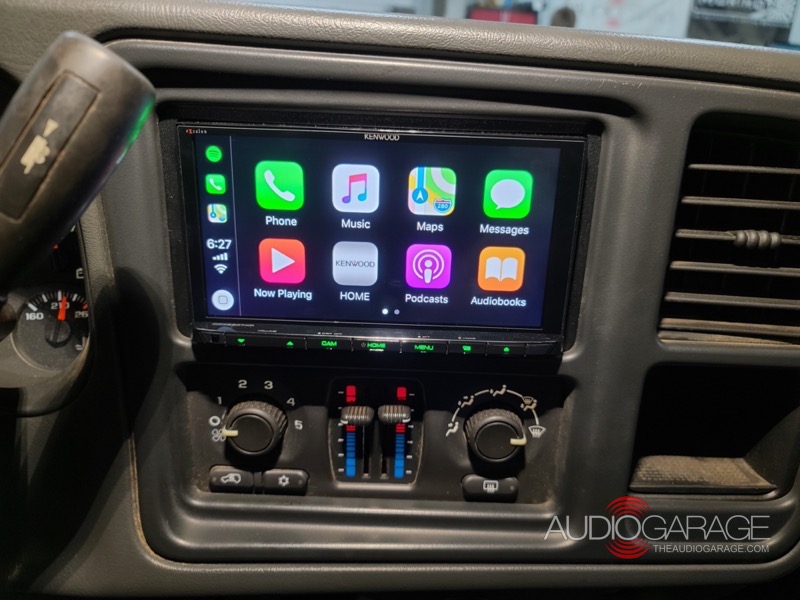 A client from here in Fargo recently contacted Audio Garage's team to ask about upgrading the radio in his 2003 Chevrolet Silverado pickup truck. He wanted to add Bluetooth hands-free calling along with Apple CarPlay and Android Auto smartphone connectivity. The client mentioned that a backup camera would be the icing on the cake to round out the new source unit. After a quick inspection of the vehicle, one of our Product Specialists put together a radio and camera package to deliver on all his requests.
Chevrolet Silverado Radio Upgrade
After looking at a few radios on our display board, the client chose the Kenwood DDX9907XR. This double-DIN multimedia receiver features a high-resolution 6.8-inch touchscreen that's bright and easy to see in all lighting conditions. The radio also includes wireless CarPlay and Android Auto connectivity so he can call people or reply to text messages using simple voice commands.
While the dash was apart, the client asked if we could upgrade the speakers and add an amplifier to improve the stereo's sound. We were happy to oblige.
Backup Camera Makes Parking Safer
The client wanted a backup camera solution that would let him see everything behind the vehicle and reduce the time it takes to back up to a trailer. We upgraded the truck with a replacement tailgate handle from iBeam that has a built-in CMOS camera. The camera is angled downward so that the trailer hitch is visible in the image on the Kenwood radio. It also has a wide field of vision so he can see oncoming cars when backing out of a parking spot. All the wiring for the camera is routed safely so that it won't be damaged by road debris, water or slush in the winter.
North Dakota's Vehicle Enhancement Experts
We wrapped up the work on this pickup truck by adding a Viper remote start system to the vehicle. The client can start the truck a few minutes before it's time to leave so that the interior is cooler in the summer or warms up faster in the winter.
With the work done, the truck owner returned to Audio Garage so that we could show him how to use all the new features we'd added. We helped him pair his phone to the radio to use the voice commands and hands-free calling, and then we demonstrated how the backup camera works and explained the remote car starter features. He was thrilled with the way everything looked and loved the sound of the new stereo.
If you're interested in upgrading your vehicle, drop by our store or give our team a call. You can send us an e-mail using our online contact page if you cannot visit the store.