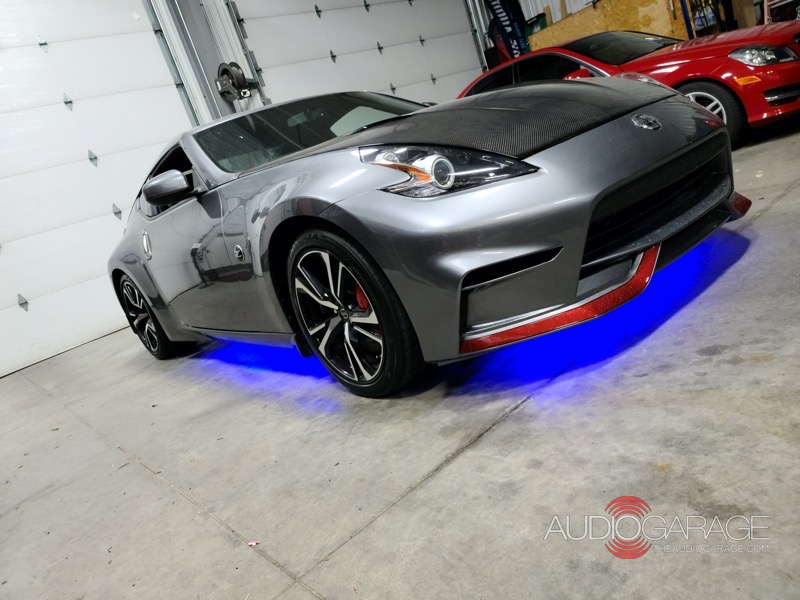 A client from here in Fargo recently e-mailed the team at Audio Garage to inquire about having a new radio installed in his 2020 Nissan 370Z. The factory radio wasn't working, so he'd ordered a new radio as a replacement. After talking to the client about his plans, we suggested upgrading to a better radio so he'd have more power for the speakers, improved anti-glare performance on the screen and an extended warranty. He liked our suggestion, so he canceled his order and purchased a Sony XAV-AX7000 from us.
Nissan 370Z Radio Upgrade
Why would the radio in a 2020 370Z be malfunctioning? The client picked up this 370Z on a deal as it had been in an accident.
Our team integrated the new Sony radio into the dash of the Nissan and added an interface that would allow the client to use the radio switches on the steering wheel with the new Sony receiver. He can change the volume, change tracks or the radio station and even activate the Apple CarPlay or Android Auto smartphone interface without taking his hands off of the steering wheel. We also fed the video signal from the backup camera into the new radio, so it's easy to see what's behind the car when parking or maneuvering.
High-Power Multimedia Receiver
The Sony XAV-AX7000 is a unique source unit solution in that it includes a high-power amplifier right in the chassis of the radio. Most radios can produce about 20 watts of power per channel. That's enough to let you listen to the radio comfortably while driving around town. If a song comes on and you want to crank it, you won't have any reserve power. The Sony AX7000 can produce up to 45 watts of power to the front and rear speakers. Now, when he wants to turn up the volume, he's good to go!
Custom Lighting Upgrade
While we had the car in the bay, the client asked us about adding custom LED lighting to the vehicle. We provided a quote to add an XK Glow under-car and under-dash RGB lighting kit. The client can control the lighting using an app on his smartphone. The app uses a Bluetooth connection to the controller. He can set the color of the lighting to any of thousands of color combinations or flashing patterns. We configured the system so that the lighting in the vehicle operates separately from the under-car RGB LED light strips.
Fargo's Vehicle Customization Experts
With the new radio installed and the lighting system mounted, we let the client know he could pick up his car. He was thrilled with the new radio and loved the lighting. If you're interested in customizing your vehicle, drop by Audio Garage or send our team and e-mail.