Did you know that Audio Garage in Fargo can integrate your Apple Watch or Android Wear smartwatch with an auto start to control your car? That's right! You can tap icons on your smartwatch to lock, unlock, pop the trunk or start your vehicle. The best part is that this connectivity works anywhere in the world where you and your car have access to cellular data service. Let's take a look at how this works and why it's so convenient!
Connecting Your Auto Start to Your Watch
The first step is to choose a Viper auto start system for your car. You can pick a basic system such as the 4606V with 2,000 feet of range or something with all the bells and whistles like the 4706V with 1 mile of range and an LCD two-way remote control. The starter system serves as the interface to the electronics in your car and executes the starting sequence once it receives a command.
The next step is to upgrade the starter with a Viper SmartStart cellular interface. The SmartStart is a small module that we install in the dash of your vehicle that communicates digitally with the remote starter. SmartStart includes a cellular data radio to receive commands from an app on your smartphone and of course, commands relayed from the smartwatch application. As we mentioned, the system works with the Apple Watch as well as Android Wear-compatible smartwatches.
Features of Viper SmartStart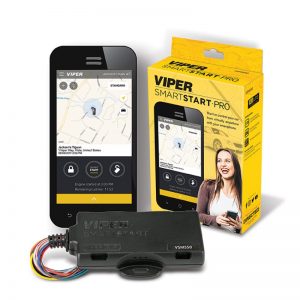 SmartStart can be more than just a remote starter and lock control interface. With the Secure Standard service package, you get lock and remote start control. For a few extra dollars each month, the VSM550 SmartStart Pro system can provide GPS tracking and location-based notifications. You can configure speed monitoring, towing and movement alerts and SmartFence geography-based warnings. These alerts show up as notifications on your smartphone and your smartwatch, so you know if something is going on that needs your attention. Not sure which system is right for you? Drop by the store and a member of our team will help you choose the perfect solution.
The GPS location information is also compatible with your smartwatch. If you are a parent and have loaned your vehicle to one of the kids, you can check their location right on your watch. The GPS locating features are great for small business owners wanting to keep tabs on their assets or staff.
Expert Installation and Premium Customer Service
As cool as it is to be able to control your car with your smartwatch, none of that matters if the auto start affects the reliability of your vehicle. The installation technicians at Audio Garage are fanatical about the work they do. We take the time to ensure that every client leaves the store with their system configured and functioning perfectly, and we make sure they know how everything works. Standing behind the products we sell and the work we perform is one of our core values, and it's why clients, their family and friends come back to us year after year for upgrades.
If you're interested in an auto start that works with your smartwatch, drop by Audio Garage in Fargo and speak with one of our product experts today. You can also reach us by phone or by e-mail using our contact page.