With the summer winding down and the amount of daylight diminishing, upgraded headlights are quickly becoming a popular topic at Audio Garage in Fargo. It won't be long before the commute to and from work or school is dark. Having a lighting system on your car, truck or SUV that makes seeing everything clearly not only makes your drive safer but makes you more visible to other drivers on the road. Read on to find out more about our automotive lighting upgrade options.
High-Output LED Upgraded Headlights
One of our most popular light upgrades is the new Diode Dynamics SL1 LED lightbulb for factory headlight assemblies. Replacing your incandescent halogen bulbs with LEDs will increase the light output from your vehicle while maintaining a beam pattern that ensures everyone is safe. We carry solutions for H11, H10, H8, 9006 and 9005 applications.
HID Headlight Upgrades
Another popular option is an HID lighting system. Though LED lights are improving quickly, HID lighting remains the brightest option available. When you need to see as far as possible, our premium bulb replacement kits from Morimoto offer industry-leading performance and exceptional reliability.
Safe and Efficient Lighting
Undoubtedly you have seen vehicles with reflector-style headlights with inexpensive HID upgrades that blind oncoming traffic. Not only is the beam pattern dangerous to other drivers, but it also doesn't focus light where you need it – down the road. All of our lighting upgrades increase the light intensity while maintaining a safe cut-off to ensure you can see clearly without blinding oncoming drivers.
Upgraded Fog and Driving Light Assemblies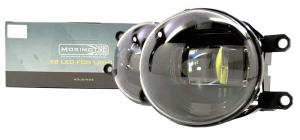 Another popular lighting enhancement is an upgraded fog light system from Morimoto. The LED lights are available as direct bolt-in replacements for many imported and domestic cars, truck and SUVs, including Ford, Ram, Porsche, Subaru, Acura, BMW, Dodge and Chevrolet. Morimoto also offers universal solutions in a variety of sizes, and all its fog light kits meet or exceed DOT, SAE and ECE regulations.
LED Marker and Brake Lights
We carry upgraded LED turn signal, marker, license plate and brake light bulbs. These bulbs are brighter than their incandescent counterparts and light up faster because there is no filament to heat. These bulbs help make you more visible and can reduce accidents. Switchback bulbs that change from amber to white are also available for many applications.
Auxiliary Lighting Upgrades
If you need high-power lighting for your truck, SUV, side-by-side, four-wheeler or snowmobile, our Morimoto and Rigid Industries light bars can deliver. These high-efficiency, high-output lights are available in many different sizes and beam patterns so that you can see the road or trail safely once the sun sets.
Our installation technicians are available to mount the lights on your vehicle and complete any wiring required to ensure your new lighting system will operate safely. We'll finish by aiming the lights for you to maximize their performance.
North Dakota's Vehicle Accessory Experts
Whether you are interested in a set of upgraded LED bulbs, an HID kit, new fog lights or a set of replacement light assemblies, Audio Garage in Fargo offers the best solutions available. Drop by the store with your vehicle and one of our product specialists can help choose the perfect upgraded headlights for your vehicle. For more information, give us a call or send an e-mail using our online contact page.