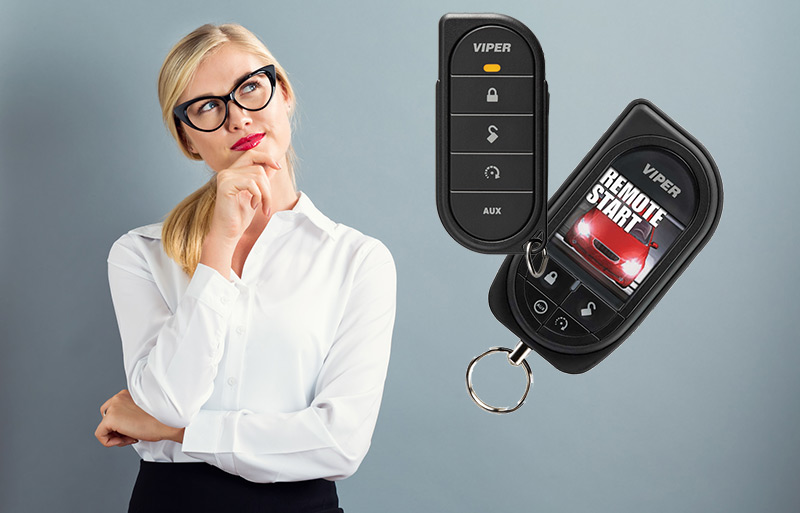 Audio Garage in Fargo takes auto starter sales and installations very seriously. We know you want to make your vehicle more comfortable on a cold winter day, and we want to make sure that the system operates flawlessly every time you press a button. In this article, we are going to discuss five common mistakes people make when shopping for a remote car starter.
Mistake #1: Not Having Enough Remote Range
Many people think that they only need a few hundred feet of range because they park their car or truck in their driveway. While that is true, think about all the other times it would be nice to give your vehicle a chance to warm up before you drive away. You might be out for dinner with friends, be about to leave West Acres Cinema or working at Sanford Medical Center.
The range isn't limited by sheer distance alone. Buildings and radio interference can dramatically reduce the effective range of your remote starter. Talk to us about how you plan to use the system, and we'll make sure you get the performance you need.
Mistake #2: Choosing an Installer Based on Price
If you want someone to paint a portrait, would you choose the artist with the greatest skill or the one who costs the least? Integrating a remote starter into your car or truck is a complicated task. Our technicians not only need to make all the right wire connections, but each connection needs to be secure and reliable to ensure your vehicle works flawlessly. Choose talent and experience over price when shopping for a remote start installer.
Mistake #3: Not Getting the Features You Want
Remote starters can do a lot more than just start your car. Modern systems can control door locks, include trunk and hatch release functions and can automatically activate heated seats and rear window defoggers when the vehicle is cold. Our team of technicians will make sure  you know which options are available for your vehicle so you get all the functionality you want.
Mistake #4: Buying an Inexpensive Remote Starter
Remote starters are available from big box stores and online sources such as eBay and Amazon. While these are likely to work out of the box, nobody knows anything about the components inside the system. Will it draw too much current and drain your battery? Will it work when it's 10 below in January? Don't leave the reliability of your vehicle and the starter to chance. Buy a quality product with an excellent warranty.
Mistake #5: Buying at One Place, Getting Installation at Another
The wiring codes and programming procedure for starters from different brands are unique. While our installation team can work with almost any product on the market, they are much more efficient when installing the products we sell. Buying the product and having the same shop install it will save you time and hassle. If something goes wrong with a starter from another company, well, that's a headache nobody wants to experience.
Auto Starter by Audio Garage
Now is a perfect time to book your auto starter installation. The team at Audio Garage in Fargo is here to help you choose the perfect solution for your situation. For more information, drop by the store, give us a call or send an e-mail using our contact page.