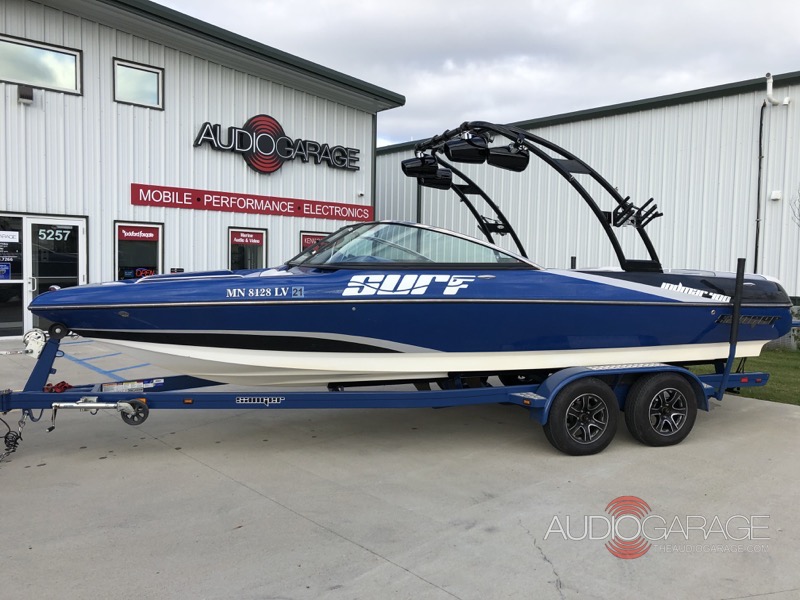 A client from here in Fargo contacted the team at Audio Garage to inquire about upgrading the stereo system in his 2017 Sanger 237 wakeboard boat. His e-mail mentioned that he wasn't happy with the wakeboard towers on the boat, and he wanted something that would be both louder and clearer. After a brief discussion, he agreed to drop his boat off at the shop for an inspection once he took it out of the water at the end of the season.
Sanger 237 Marine Stereo System Upgrade
After inspecting the boat, we presented the client with several options to give him the kind of performance he wanted from the audio system. He decided that he wanted us to replace everything and take advantage of a sale we had going on at the time.
We started the installation by mounting two sets of Rockford Fosgate PM282W-B 8-inch wakeboard tower speakers on the tower. We ran all new wiring through the bar to the amplifier mounting location to ensure the client would get as much performance and reliability as possible from the upgrade.
Marine Speaker and Amplifier Installation
While running wires, we removed the four factory coaxial speakers and replaced them with Rockford PM2652 6.5-inch coaxial Punch Series drivers. We ran new wiring from these speakers to the amplifier location as well.
A pair of Power Series Rockford amps powers the audio system. A four-channel TM400X4ad amplifier provides each of the tower speakers with up to 100 watts. A five-channel TM1000X5ad powers the interior speakers with the same 100 watts. The client chose the five-channel amp because it was in stock and on sale. He isn't using the subwoofer channel right now, but it is available should he want to upgrade later.
Fusion Marine Head Unit
During the boat inspection, we found that one of the channels on the original radio wasn't working. We replaced the radio with a Fusion MS-RA70 digital media receiver. The radio fits perfectly in the factory panel to the left of the steering column.
Fargo's Marine Stereo Upgrade Specialists
With the new stereo equipment in this Sanger boat and the amplifier sensitivity controls calibrated to work with the Fusion radio, it was time for the client to return to Audio Garage in Fargo to pick up his boat. He was thrilled with the improvement and excited to get the boat out on the water next season.
If you are shopping for an upgrade for your marine entertainment system, drop by our store, give us a call or send our team an e-email using our contact page. We'd be happy to make your time on the water more entertaining!