When it comes to making your vehicle more comfortable to get into on a cold winter morning, a manual transmission remote starter from Audio Garage in Fargo is a great choice. Our team has installed hundreds of remote start systems on standard transmission cars, trucks and SUVs. Let's look at how the Viper systems we offer work to let you warm up your vehicle.
How Does a Manual Transmission Remote Starter Work?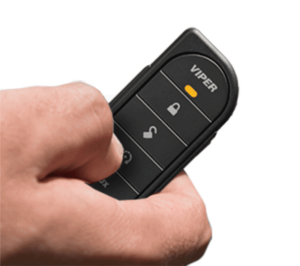 To use your Viper remote to start a manual transmission vehicle, you'll put the vehicle in what's known as Manual Transmission Start (MTS) mode when you park it. Once you are stopped in your driveway or at work, leave your foot on the brake pedal and set the parking brake, Next, press the remote start button on the Viper key fob. The Viper remote starter will take over operation of the engine. You can remove your key (if you have one) and exit the vehicle. At this point, the engine will continue to run. When the last door is closed and the vehicle is locked with the Viper remote, the engine will shut down. The next morning, you can press the start button and the engine will spring to life and start warming your vehicle.
If someone opens a door before you start the vehicle, MTS Mode will be cancelled. This safety measure helps to ensure that the vehicle is in neutral when you start it.
If you've chosen a Viper system that includes a two-way LCD remote, a gearshift icon will be displayed on the LCD screen to let you know when MTS Mode is set. Likewise, you can monitor the temperature in the vehicle to know just how long it will need in order to start warming.
Can You Remote Start Any Vehicle?
We have remote starter solutions for almost every vehicle on the road. In terms of manual transmission vehicles, we avoid Jeep Wranglers because it's too easy to remove the doors. Likewise, we also avoid semi trucks. Otherwise, we have starters for most gasoline, diesel and hybrid drivetrain vehicles.
Expert Installation Services
Of course, no remote starter is of any use if it doesn't function reliably. Our team of expert technicians takes pride in the work we do. We never rush or take shortcuts. Every wire is connected securely and protected against short circuit and vibration damage. We mount components in locations that ensure they are away from heat sources or moving parts like the steering or pedal assembly.
Visit Fargo's Remote Start Experts
If you're shopping for a remote car starter for a vehicle with a manual transmission, we invite you to visit Audio Garage on 51st Avenue South in Fargo. If you can't drop by, give us a call or send our team an e-mail using our online contact form.